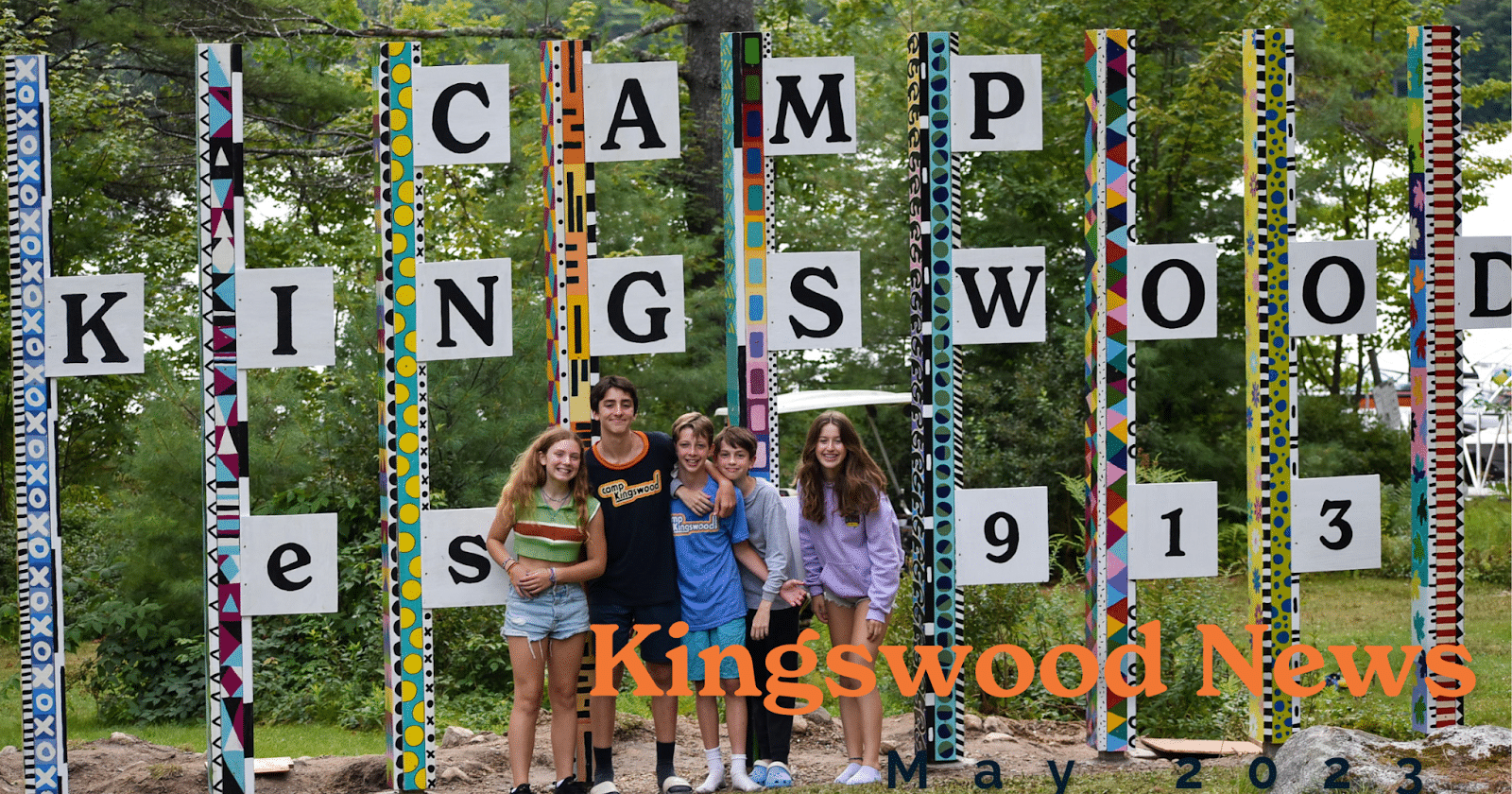 Welcome back to The Kingswood News – your source for all things camp! We're down to one month until we're back home in Bridgton! We know it's close to summer when the ice on Woods Pond slowly starts to melt and we start counting down weeks until camp instead of months. That's right! Only five weeks until our first staff arrive at camp! Alright, it's time to see what's new at Camp Kingswood…
---
New Family Night
---
Facility Updates
Last summer the Boys' Side shower house was redone, and this summer campers living on Girls' Side are in for a treat! We're giving the Girls' Side shower houses facelifts. Woohoo! Our facilities team has been working hard on this project since September, and all three buildings will be finished in a couple weeks, just in time for summer. Out with the old, in with the new! Check out this sneak peak into what the new bathrooms are looking like:
---
Staff Announcements!
This month's returning staff highlights feature three incredible humans who embody the spirit of Kingswood. Without further ado, let's meet our May returners…
First, we welcome back Josh Forshaw for his fourth summer on staff! When 'Forshaw' isn't spending his time on the Upper Fields at Kingswood, he is hanging out in the UK where he just graduated from Oxford Law and will accept a job as a lawyer after camp. Josh had such an awesome time as Head of Upper Fields last summer, he's back again for round two! Whether he's shooting hoops at the basketball courts, reffing a game of Nukem, (a Kingswood favorite), or acting out hilarious scenes for skits, Josh's energy and passion for Kingswood are the perfect addition to create that camp magic.
Next up, we are excited to welcome back Becca Soifer! After a three-year hiatus, she's back and ready to rock as one of our Olim Unit Heads! Becca is currently studying dance and psychology at Smith College in Massachusetts. During the year, you can find Becca dancing, baking, crocheting, or doing anything art-related. She spent 10 summers as a camper at Kingswood, and this will be her fourth year on staff, for a total of 14 summers spent at camp – that's older than most of our campers! At this point, Becca has camp spirit in her core, and she can't wait to show it off by dancing and singing the nights away during Ruach on Friday nights.
Last, but certainly not least, we are thrilled to have Aaron Cohen joining us for his ninth summer at camp, but his first on staff as a general counselor! From Boston, Aaron is deciding between a few universities for his freshman year, but plans to study Real Estate Development and Construction Management with a minor in Entrepreneurship. When he's at camp, the ruach (spirit) from Aaron is unmatched. You can hear him cheering from across the dining hall, making friends with everyone, and you'll notice his infectious laughter that can make anyone smile. After being a C.I.T. last summer at camp, Aaron is stoked to finally use all the skills camp has taught him throughout the years with his own campers!
---
It's in the Family
This year, in honor of our 110th Anniversary, we're highlighting multi-generational Kingswood families in each issue of The Kingswood News. This month, we are highlighting Lisa Hines and her son, Seth Bradley!
Lisa Hines and her sister Karen were campers at Kingswood during the summers of 1974 and 1975. Lisa has fond memories of the old tradition of a camper being selected as, "The Shabbat Princess," and she says one of the biggest updates that happened while she was at camp was cabin G1/2  getting the very first in-bunk bathroom. (How fitting that almost 50 years later, we're featuring the Girls' Sides new bathroom renovations?!) Lisa passed on her love for camp to her son, Seth Bradley, who will be returning to Kingwood for his 11th summer as a Media Specialist.
Lisa's memories of camp are ones that you would still hear kids talking about today. Busy, happy memories filled with Color War, Shabbat, and lots of games of tetherball in front of her cabin, G1-2. "Friday nights we would get dressed up for services and after that, we would go to the Old Rec and have dance parties. The name is different, but the energy is exactly the same," said Lisa. After dancing and singing the night away, Lisa recalls heading back to bed and looking forward to sleeping in the next day and attending Saturday morning services. But what's camp without a nighttime ritual with your bunkmates? "To this day, the song 'Taps' gets stuck in my head. We would sit in a circle, hold hands, and sway back and forth, singing  'Taps' every night," said Lisa. This was one of her fondest memories and one that has stuck with her to this day.
Fast forward almost 50 years, and Lisa gets choked up thinking about Seth at Kingswood. Seth started his Kingswood journey when he was just nine years old, and Lisa knew she was sending him to a place where he would be just fine. "As a parent, you want to see your child be happy, safe, busy, and entertained. I knew he was going to get that at [at Kingswood]. I didn't worry about his safety because I knew he was being cared for," added Lisa. The first year he attended for two weeks, and as he grew up he attended for longer and longer each year. Lisa remembers bringing Seth to camp for the summer, and shared that it was never dropping him off that was a problem. Before she could even get a hug goodbye, he was running off down the camp road yelling, "Bye mom!" As tough as it was to see him go, she knew the Kingswood magic was already working, and this would be an amazing home for him. She remembers one time coming back to pick him up with her own tears of joy. He greeted her with a smile and said,  "Sorry, Mom. I used all my tears on my Israeli friends who left this morning."
Seth shares in mom's appreciation for having Kingswood in his blood. "The best feeling of being a second generation camper is knowing I have my experiences, my mom has hers, and we can understand and relate to each other's stories," said Seth. His own Kingswood story has shaped who he is, and he said living with his best friends for two months each summer has created bonds that will be with him forever. "When I have kids, they will be going to Kingswood. What I have gained from camp is what I want my kids to experience and there is no place as special to me as camp."
If you're an alum and you're not yet in the Facebook Group, join here. Even better, join us at camp July 28-29th – see below for information on our in-person 110th Anniversary Alumni Shabbat!
---
Alumni Shabbat at Camp
As one of the oldest summer camps in the country, we have lots to celebrate this summer with our 110th Anniversary! We couldn't celebrate this summer without including multiple generations of alumni who have paved the way for Kingswood today. To honor the awesome people from our past, we are inviting all Kingswood alumni to return home for the magic of a camp Shabbat! It's time to bring out your camp spirit, connect with old friends and join us on July 28 – 29th, where we'll be waiting for you at the Waterfront for Shabbat Walk to begin. Register here today. We can't wait to have you!
---
Kingswood Dictionary: Chofesh
CHOFESH (CHOH-FESH) noun. After dinner, when the sun is beginning to set over Woods Pond, we come together on the Waterfront for Chofesh. Chofesh (which translates to 'freedom' in Hebrew but is commonly used to mean 'free time' or 'vacation') is what we call the time after dinner when we all gather for unstructured, supervised free play. A favorite time for everyone, campers have the opportunity to hang out on the waterfront and participate in different activities. Campers especially love that during Chofesh, they're able to spend time with people they might not see as much throughout the day. This could be a cousin or sibling in a different unit, a new friend made at an elective, or a favorite counselor from last summer! Campers also love  Hammock City – a spot near the water with a circle of giant hammocks where kids can relax together and share parts of their day. GaGa, Cornhole, 9 Square in the Air, and Spike Ball are just a few of the lawn game favorites played during Chofesh. To complete the evening chill vibe, there's always good music, Israeli dance sessions, or a spontaneous drum circle for kids to join.
---
That's all for now! Thanks for reading this edition of The Kingswood News. We're so grateful you're a part of this community. Until next time – peace, love and camp!
The Kingswood Team