Special Events
Experience Kingswood in an exciting and unique way at our special events!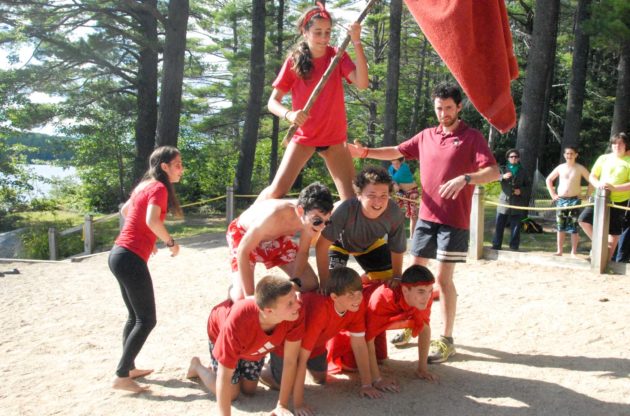 Sports Tournaments
If Kingswood campers want a little more competition in their camp experience, they can choose to partake in any number of sports tournaments—competing within camp against other Kingswood campers, or nearby, against other camps! We're fortunate to be located right in the middle of summer camp action, and in a typical summer our campers could be off playing other camps, or we could be hosting at home! Whether it's a basketball game at Camp Wildwood down the road or a swimming relay at Camp Micah across town, at Camp Kingswood we value good sportsmanship and teamwork, and we always have fun with some friendly competition. When you visit, make sure to check out our collection of trophies and plaques we've been awarded over the years!
Color War
The most anticipated event of the year takes place once each session! For two days every summer, general programming is suspended and Kingswood is plunged into Color War! The theme and exact date of the event are kept a closely guarded secret, but when 'the break' happens, campers cheer so loudly you could hear us from across Woods Pond! We dress in team colors, make up team cheers, and compete against the other teams in sports, arts and creative challenges, and lots of other camp activities. The excitement builds up to a giant all-camp relay race, and the final event is our Creativity Night with teams sharing the songs they've written and their team plaques! Our oldest 11th grade campers are camper captains, and CITs lead the teams as team captains, an honor they look forward to starting in Olim!
4th of July
We have a blast on the 4th of July at Kingswood! An all-camp BBQ at the waterfront gets us into the holiday spirit, and our carnival is amazing! Inflatables, face painting, an obstacle course, and a chance to throw a pie in your counselors' faces are just a few of the awesome stations you can visit with your friends.
Camp Musical
Our talented thespians work hard every summer to produce two Broadway-worthy musicals for the entire camp! In the recent past, we've been treated to productions like Annie, Frozen, and Fiddler on the Roof, where campers play all the roles, design the costumes and sets, and do all the technical work! Our campers work hard all session to build the productions from the ground up, and being treated to an evening of theater is always a highlight of the last week of camp!
Dance and Gym Show
At the end of first and second session is the culminating event for campers who choose dance or gymnastics as an elective. This long-standing tradition is another way for Kingswood campers to shine, and campers from every unit are a part of it! Dancers perform the dance routines they've been choreographing, learning, and perfecting in all styles, ranging from hip hop to ballet. Our gymnasts also show off their skills, with routines they've learned with the talented guidance of our dedicated and experienced specialists.
Banquet
The CITs work hard all session to plan and execute a massive themed dinner to celebrate the summer. Complete with decorations, a themed menu, and costumes, the Banquet is the final dinner of each session.
Opening and Closing Campfires
On the first and last nights of camp, our entire community gathers together on the waterfront for our opening and closing campfires. Both long-standing Kingswood traditions, at the opening campfire you'll meet our staff, learn some favorite camp songs with our songleaders on guitar, and be welcomed into the Kingswood family. The closing campfire is a bittersweet ending to the session, and we close out the summer together with an awards ceremony, slideshows, singing, and more tears than you can imagine.