Shabbat-O-Gram Week 2, July 9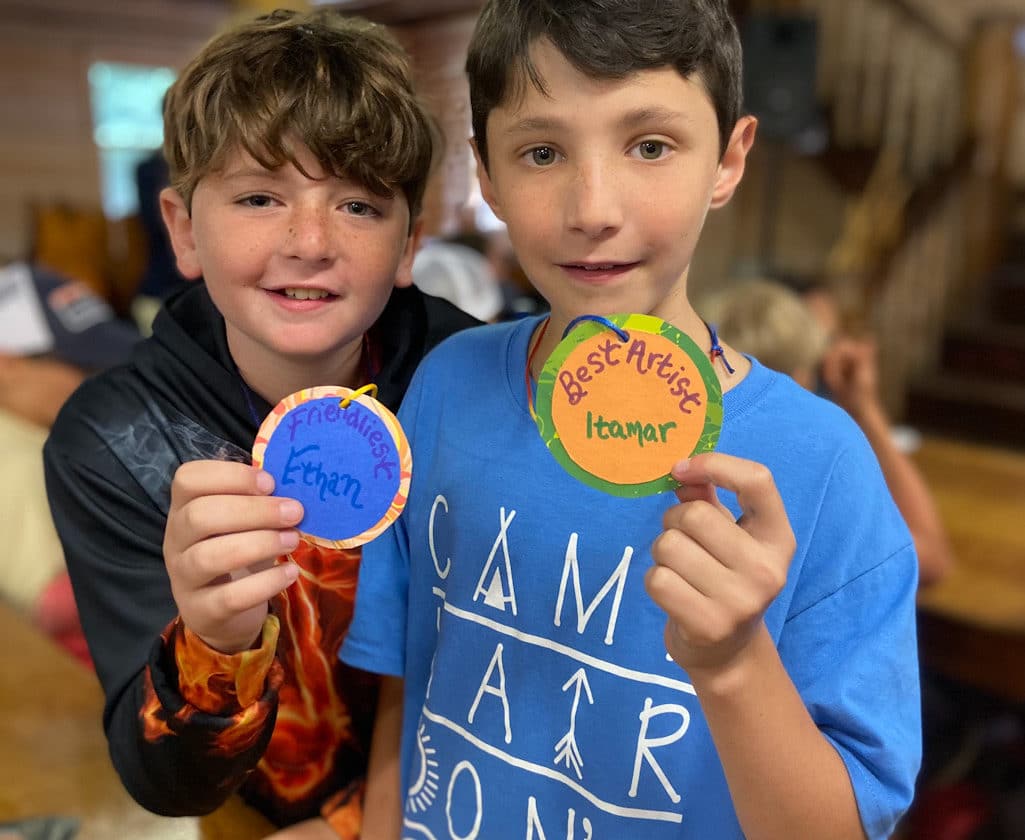 Dear parents and friends,
Last night, for the first time unmasked, we gathered as a whole camp indoors! It was exciting enough for that reason alone, having officially gone completely mask-free just a few hours earlier after clearing this week's COVID tests. But it was even more exciting because it was a showcase of our campers at their finest. You may think you have it good with American Idol or whatever other talent showcase is on TV these days, but nothing is better than a camp talent show. Really, it's extraordinary. But not for the reasons you'd think, like talent. 😉 Yes, we have our fair share of truly gifted dancers, singers, and musicians (shout out to new 2nd session camper Ryan Mirmelstein, whose family generously gifted camp a piano this spring, which was played beautifully last night!). Our talent show is extraordinary for each of those kids, but it's one of my favorite evening programs because of all the other parts too. Sharing them with you seems like a good way to give you a glimpse into what makes Kingswood so special.
It starts with the CITS who act as the show MCs. Their narration between acts is peppered with the Kingswood tradition of CIT Talent Show Corny Jokes, and they keep it fun so no one gets bored of the multiple Arianne Grande dances. Kingswood CITs are lifers, and many of them have been waiting since they were eight-years-old in Olim to be CITs. They are the holders of tradition and spirit in camp, and they have important jobs like leading the Color War teams, Ruach on Friday nights, serving meals, and planning the 4th of July Carnival – all while also doing rotations in program areas and with bunks for on-the-job training to become our future staff. Just like everything they've done this summer, the CITs flew past our expectations, and led a great program.
My next favorite part of the Talent Show are the skits and moments that are Kingswood traditions, preserved and passed down from summer to summer with the older staff taking over for those who led it before them, while the campers watch thinking about when they'll eventually get to do cool staff stuff like that. The Oonga Boonga Club skit is a favorite, but you'll need to ask your campers what it was about!
But the part I like best about the talent show is seeing sides of kids we've never seen before. Like the Olim two-weeker who left this morning, but not before delivering a stand-up comedy act that rivaled any seasoned comedian! And the ones who say they've never even considered getting on stage before, but are up there, sometimes alone, sometimes with their bunkmates, owning that stage, and discovering a confidence they didn't know they had.
This Shabbat in the Jewish tradition we celebrate Rosh Hodesh, marking the new moon and the beginning of the Hebrew month of Av. Tonight, as we came together to welcome Shabbat, we talked about the importance of new beginnings like this, and how they show up in camp. How with the two-weeker campers leaving today, our youngest bunks now merge, giving the Olim campers the chance to build upon the friendships they've made so far, and create new connections with the other kids in their unit they've been next door to until now. I shared what a great opportunity it sounds like to me to have a 'new beginning' mid-way through the session for all the rest of the bunks too. How powerful it could be to translate the power of the standing ovations given so generously at the Talent Show, into moments of celebration for each other in the bunk, even for the kids who may have been written off early on for missteps made while still adjusting to group living in COVID.
For campers staying 3.5 weeks, it's hard to believe we only have one Shabbat left of the session after this weekend! I'm not sure how it's flown by, but we're looking forward to a week ahead of warm, rain-free weather and lots of sunshine! Our Bogrim campers head out of camp on Sunday for their camping trip, and there are some exciting programs coming up, but I'll ruin the surprises if I give too much away. 🙂
Wishing you a sweet week ahead,
Jodi