"I'm pretty sure I've eaten more s'mores than I've ever eaten in my life, and I'm not mad about it."


Making Every Day Count
Daily Schedule
Sunday – Friday
| | |
| --- | --- |
| 7:30 | Wake Up |
| 8:00 | Flag |
| 8:10 | Breakfast |
| 9:00 | Cabin Clean Up |
| 9:30 | First Period |
| 10:40 | Second Period |
| 11:50 | Third Period |
| 1:00 | Lunch |
| 2:00 | Rest Hour |
| 3:00 | Fourth Period |
| 3:50 | Snack |
| 4:00 | Fifth Period |
| 5:00 | Shower Hour |
| 6:00 | Flag |
| 6:15 | Dinner |
| 7:00 | Chofesh – Free Time |
| 7:45 | Evening Program |
| 9:00 | Olim Bedtime |
| 9:30 | Tsofim Bedtime |
| 10:00 | Bogrim Bedtime |
| 10:30 | Chalutzim Bedtime |
Saturday
| | |
| --- | --- |
| 9:00 – 10:00 | Rolling Breakfast |
| 10:15 | Morning Shabbat Service (or other spiritual choices like yoga or hike) |
| 11:00 | Unit Meetings |
| 12:00 | All-Camp Clean Up |
| 1:00 | Lunch |
| 2:00 | Rest Hour |
| 3:00 | Special Program Choices (sports tournaments, free swim, play rehearsal, etc.) |
| 5:00 | Shower Hour |
| 6:00 | Dinner |
| 7:00 | Chofesh |
| 7:45 | Havdallah |
| 8:30 | Evening Program |
| 9:00 | Olim Bedtime |
| 9:30 | Tsofim Bedtime |
| 10:00 | Bogrim Bedtime |
| 10:30 | Chalutzim Bedtime |
Friday's schedule has shortened activity periods and an extended shower hour before we slow things down as we enter Shabbat.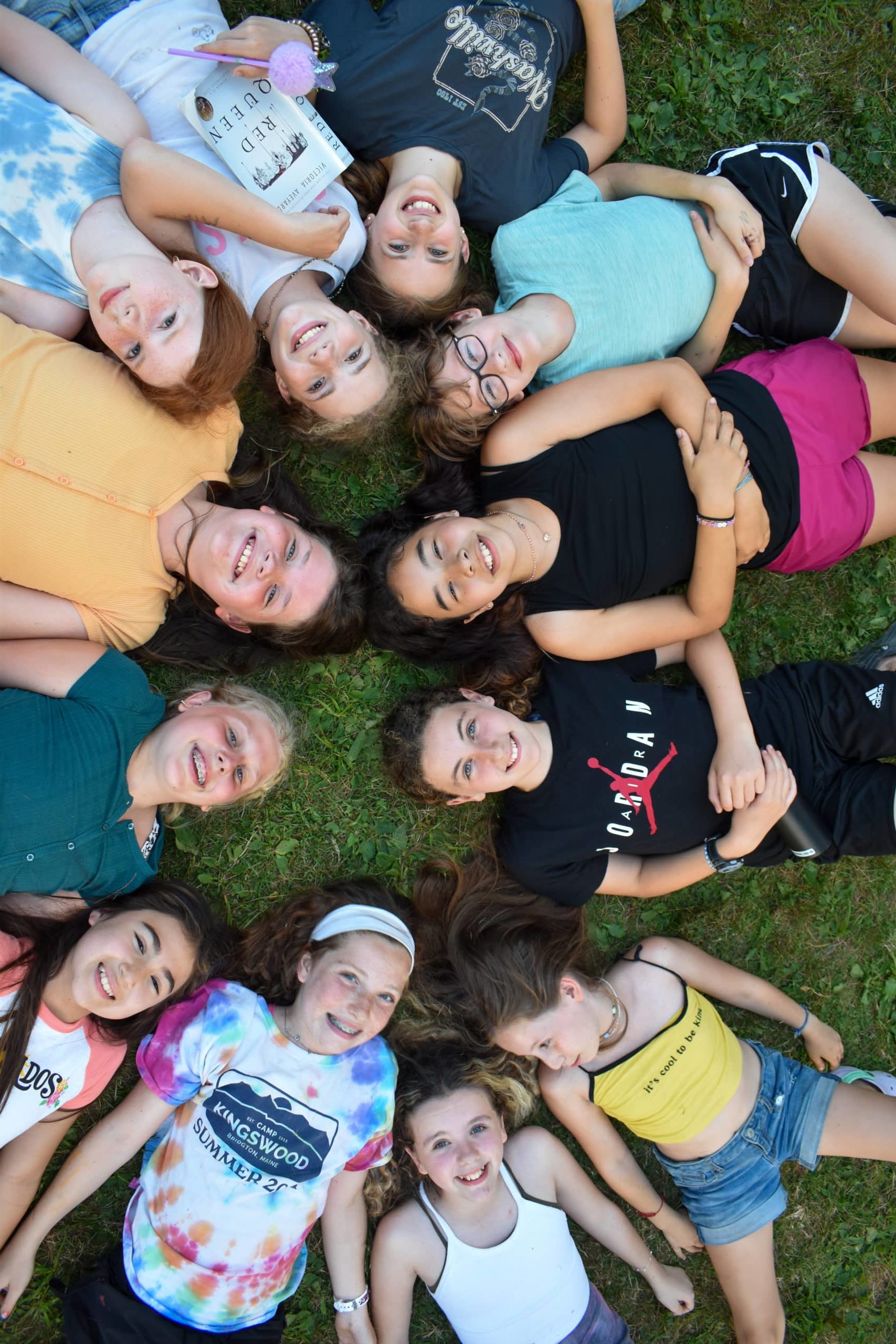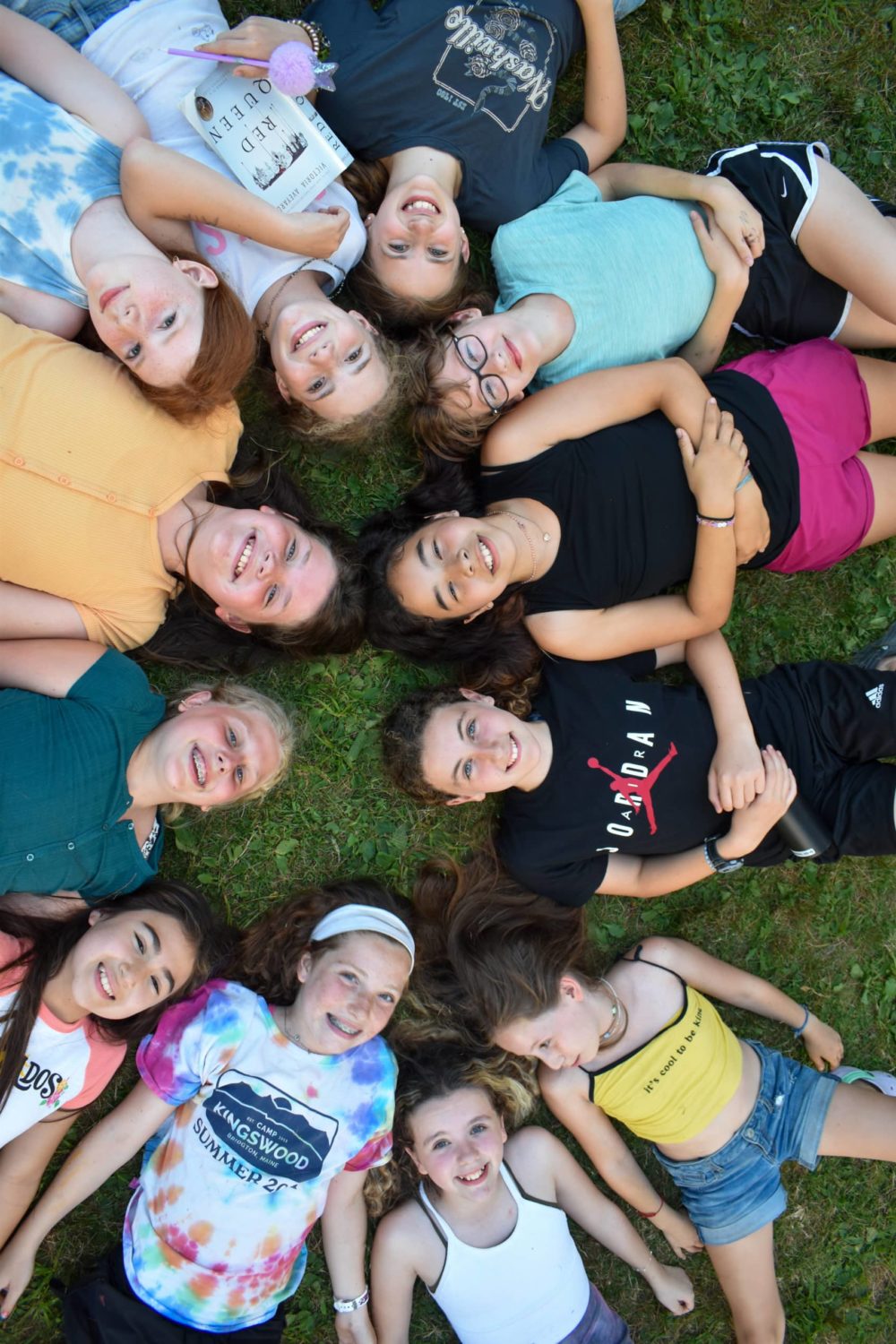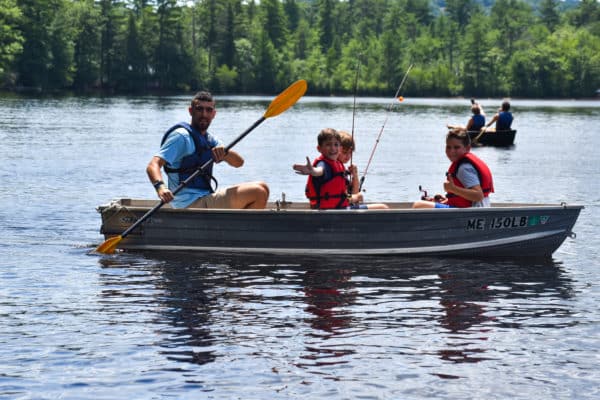 Adventure Awaits
Choosing Activities
Each day, campers have a combination of bunk activities and electives. Bunk activities are pre-assigned, giving campers an opportunity to experience everything at camp as a bunk. This exposes campers to lots of different activities while strengthening the bonds and friendships within the bunk group — their core "family" at camp. Electives are selected individually each week, and they are a chance for campers to delve deeper into activities to improve skills, work on more complex projects, or specialize in a new interest. Campers can repeat electives space-permitting, so if a camper wants to become a rock star by taking guitar lessons all summer long, they can!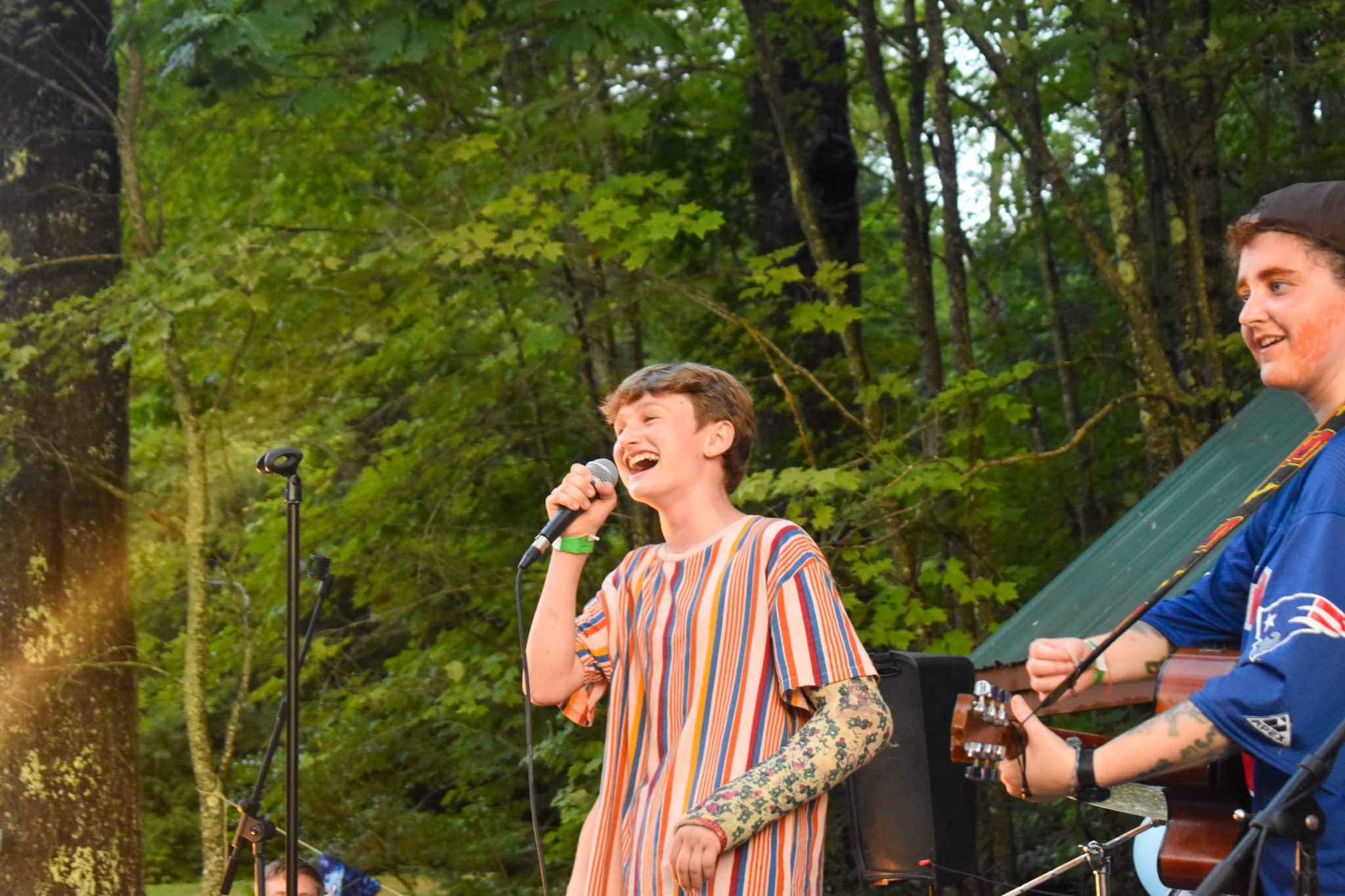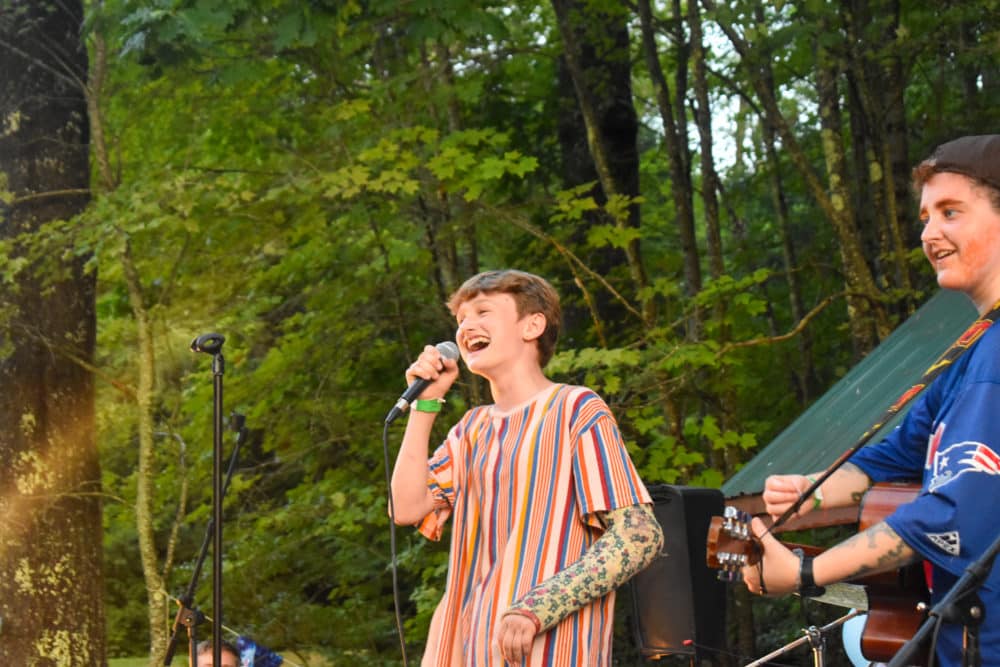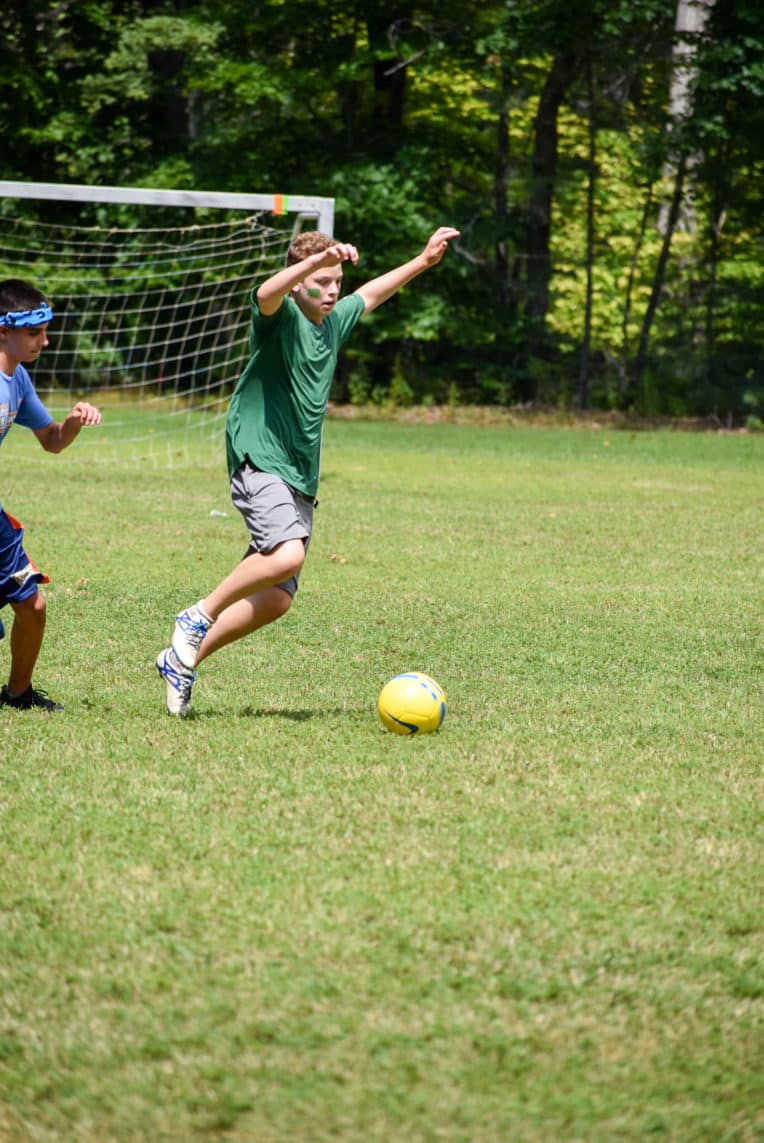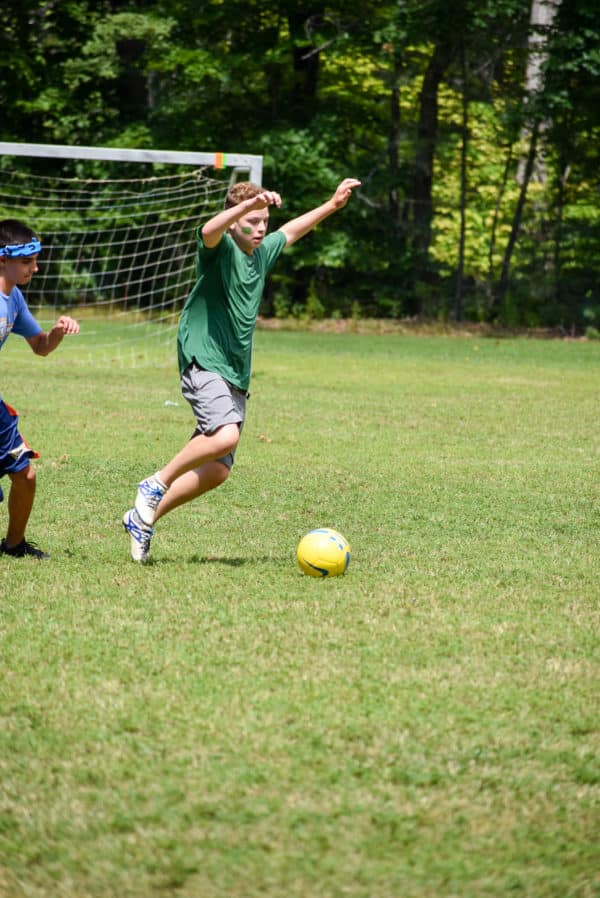 Make a splash
Swimming
Olim campers in 2nd-5th grades take American Red Cross swim lessons every other day, taught by our certified lifeguards and swim instructors. To participate in any lake activity or water sport, campers are required to pass a swim test. If a camper in any unit doesn't pass the swim test, our trained swim instructors can work with them individually to help improve their swimming skills.
All campers can choose free swim daily as an elective, using the period to swim, play in our Aqua Park on our inflatable water toys, or hang out on the grass by the water (Nine Square and GaGa are favorite waterfront hangout pastimes!)
Each elective cycle offers a selection of different electives offered by our swim staff. Some past favorites have included snorkeling, junior lifeguarding, swim team, and diving.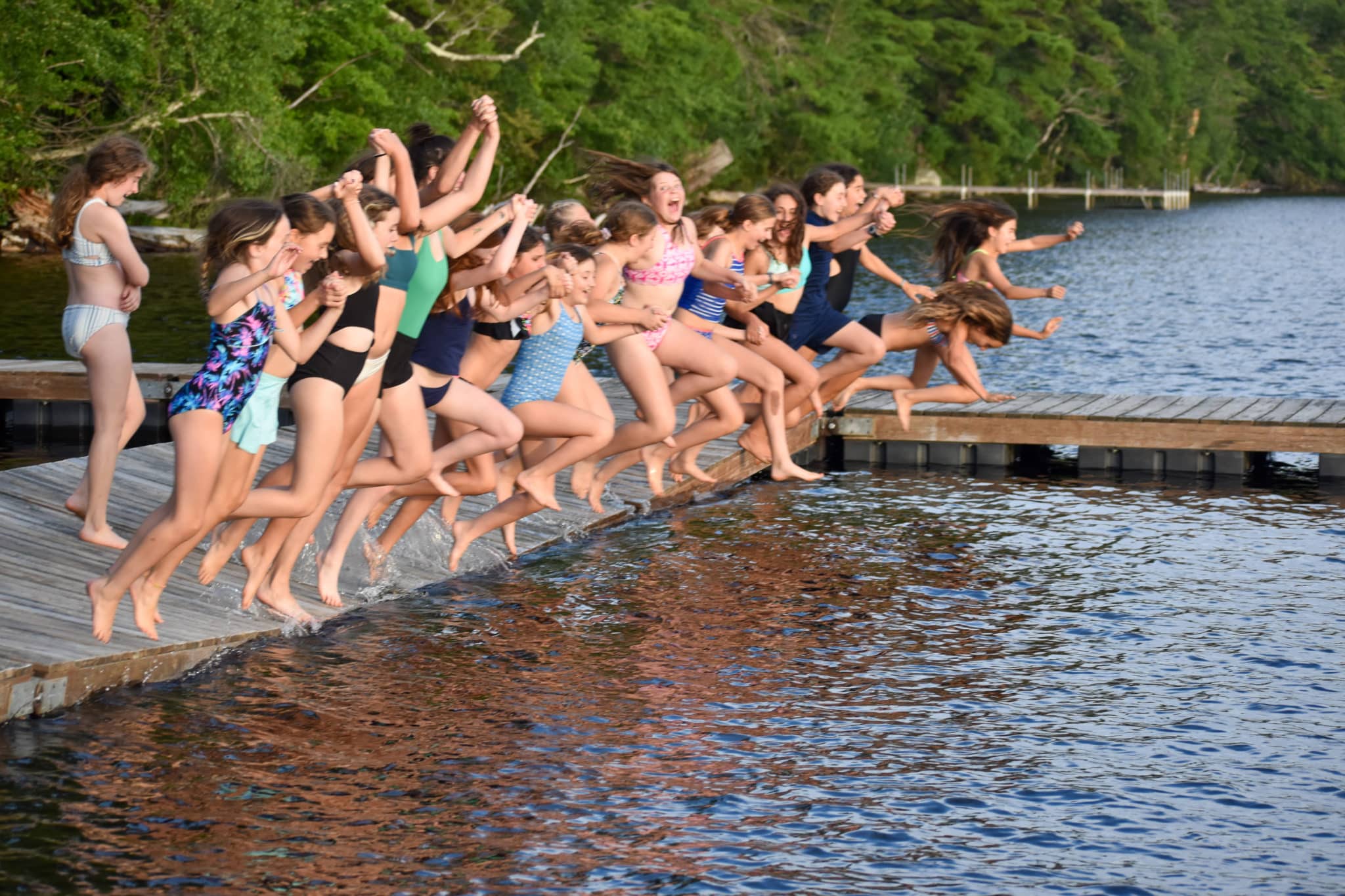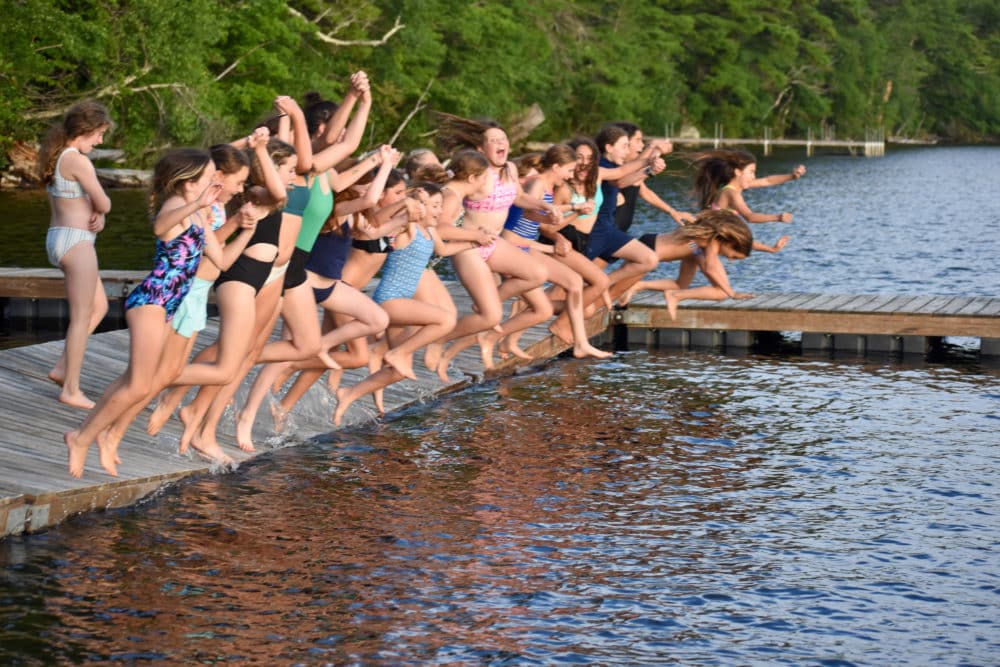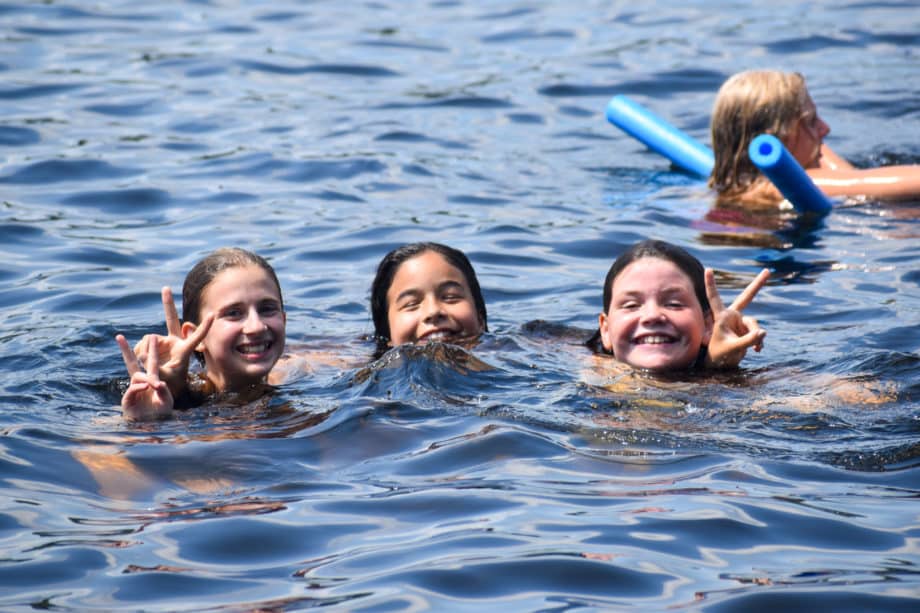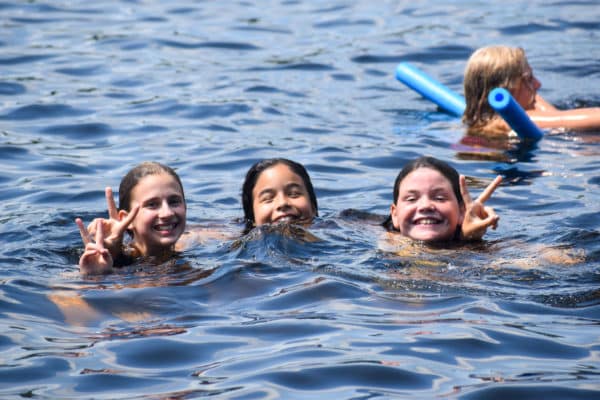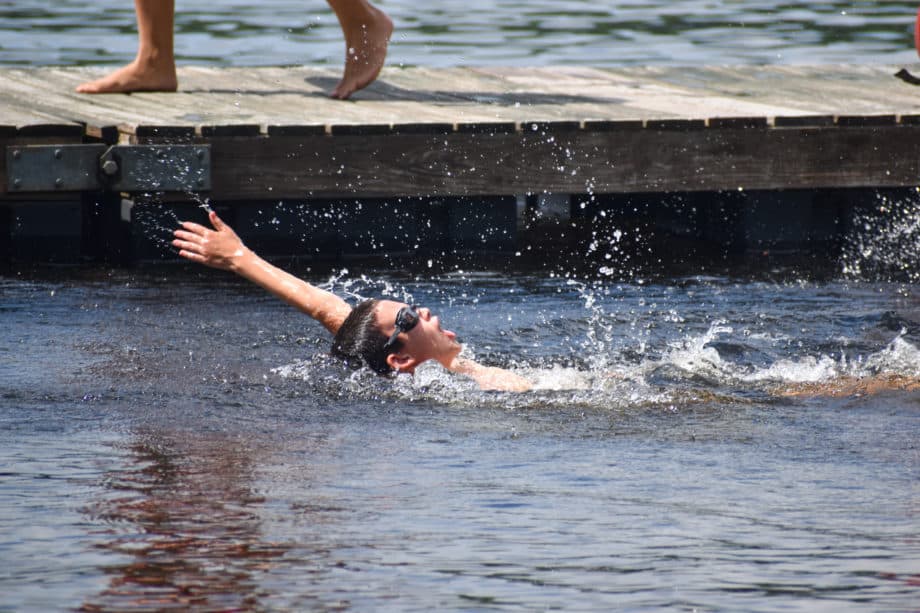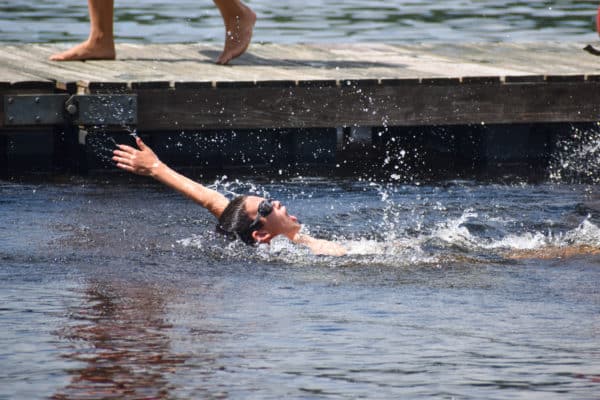 experience the warmth and joy
Jewish Life at Camp
Camp Kingswood is a Kosher camp offering campers the opportunity to experience the warmth and joy of living as part of a vibrant Jewish community. We integrate positive Jewish identity development, Jewish values, and a connection to the land and culture of Israel into our camp experience. We do this through experiential programming, music, community rituals like Friday night candle lighting, and the integration of Jewish themes and content in activities, like cooking, art, and nature. Shabbat, in particular, is a beautiful, almost magical experience at camp, with campers each having a turn to take part in leading Shabbat services, accompanied by our talented song leaders on guitar.
Kingswood is a place where anyone, regardless of their background, will feel welcome and encouraged to explore their spirituality.
Bar and Bat Mitzvah Training
Weekly B'nei Mitzvah training is offered to any child whose Bar/Bat Mitzvah is within six months of camp for a fee of $200. Please send all materials with your child, and submit the B'nei Mitzvah Tutoring Form.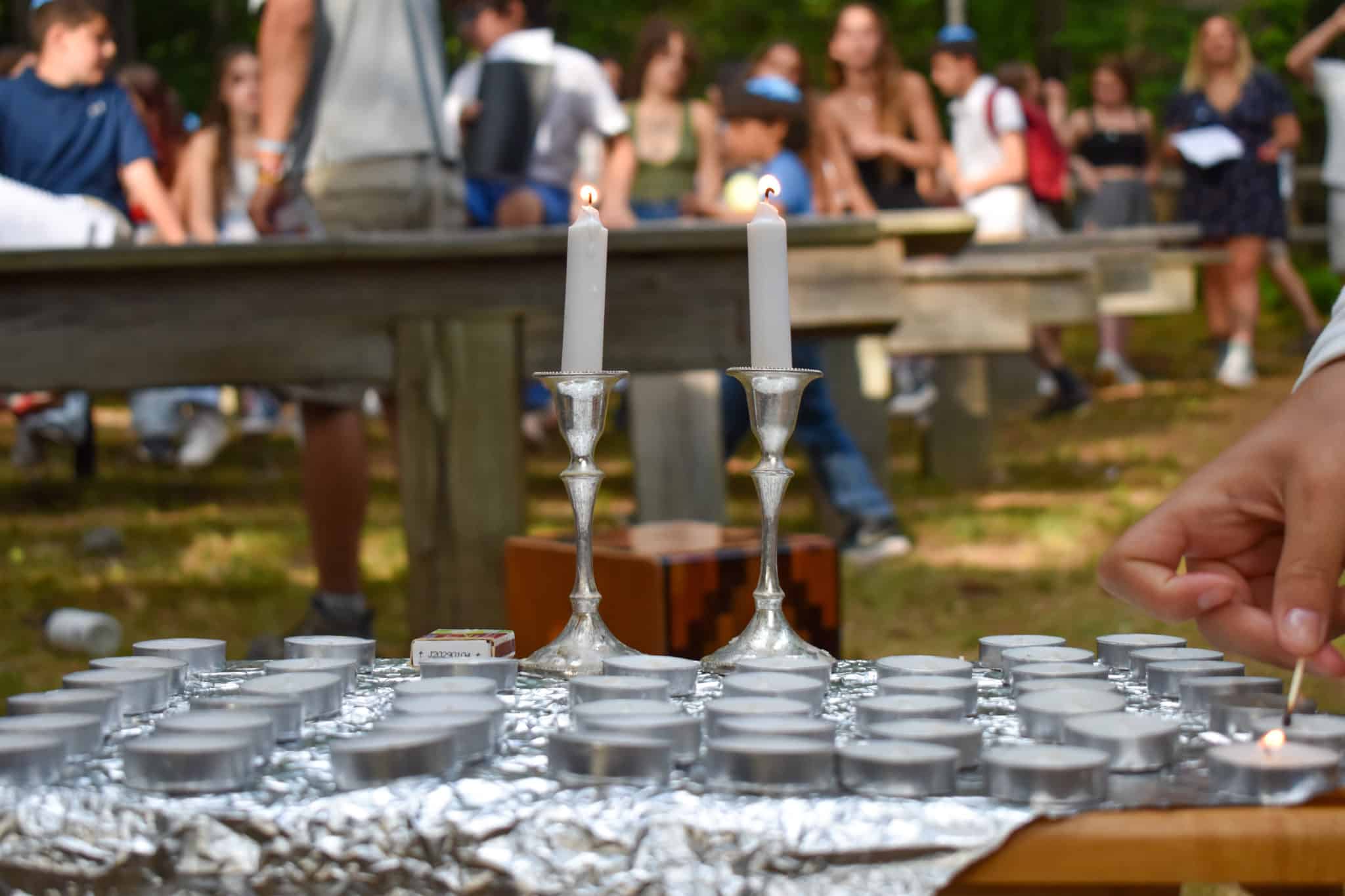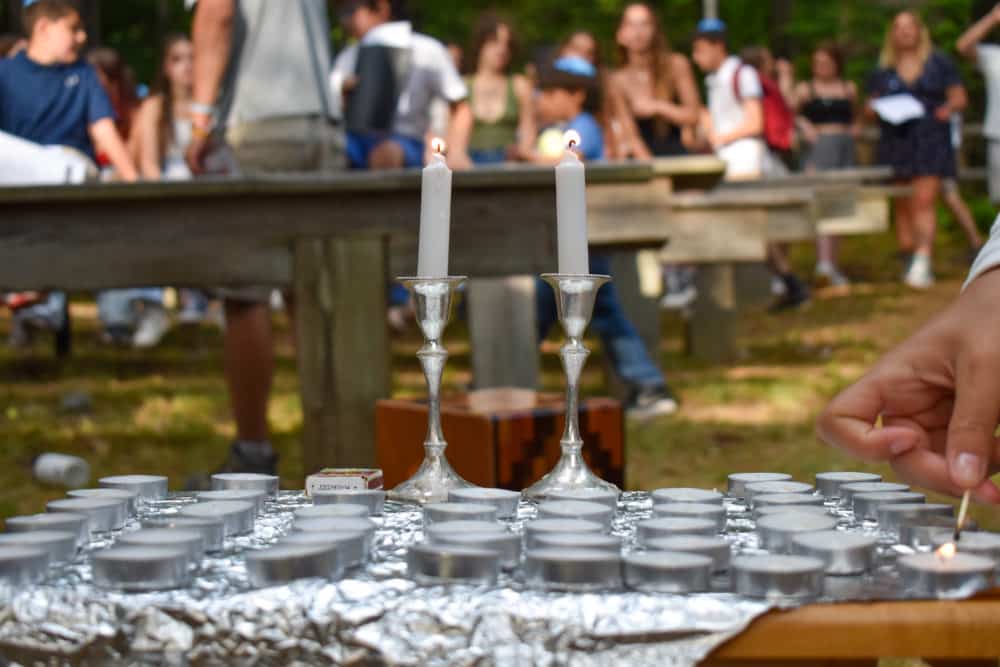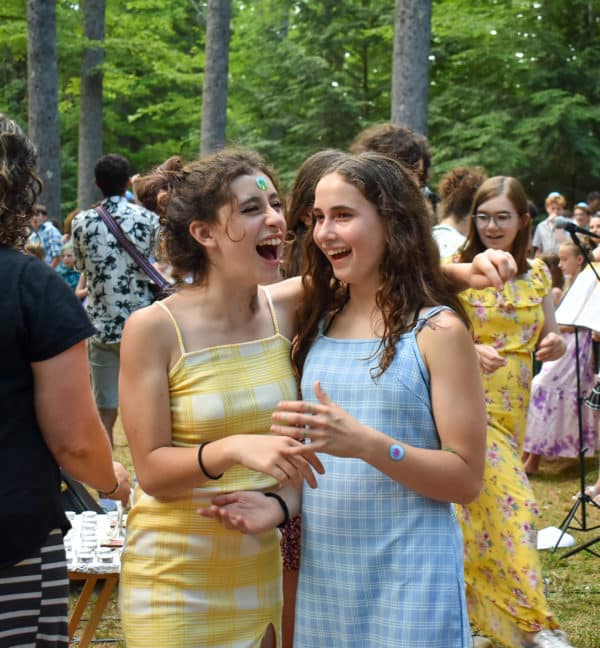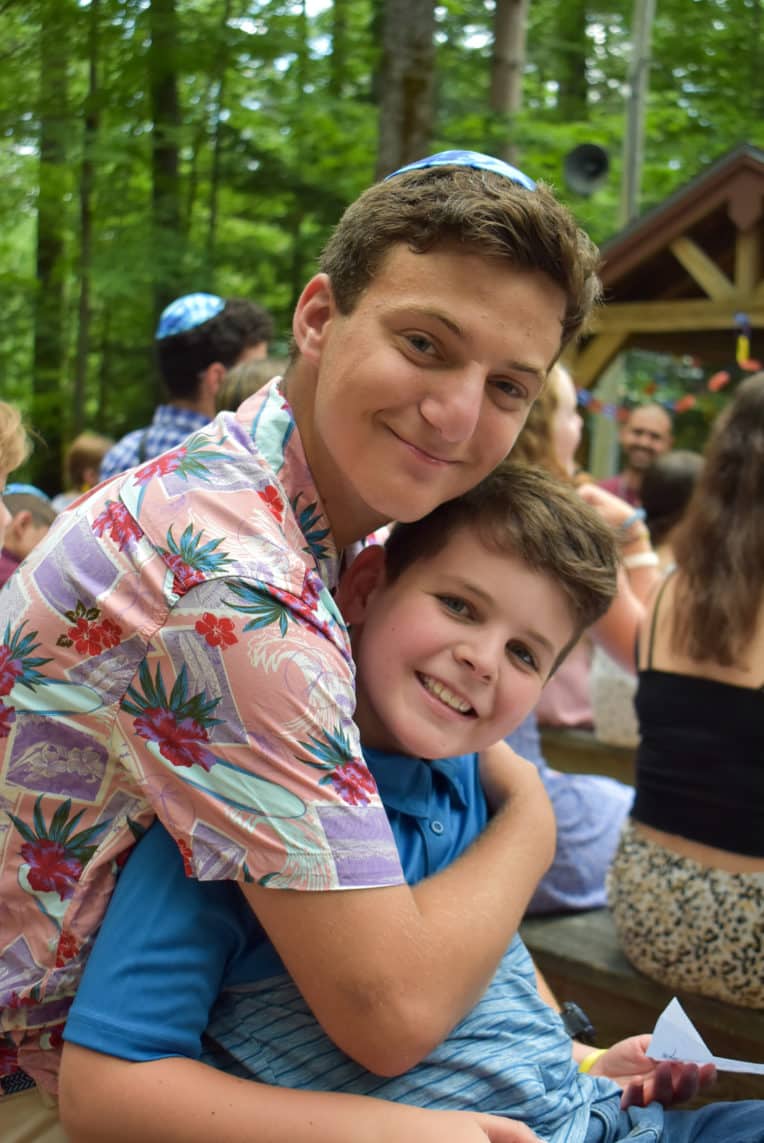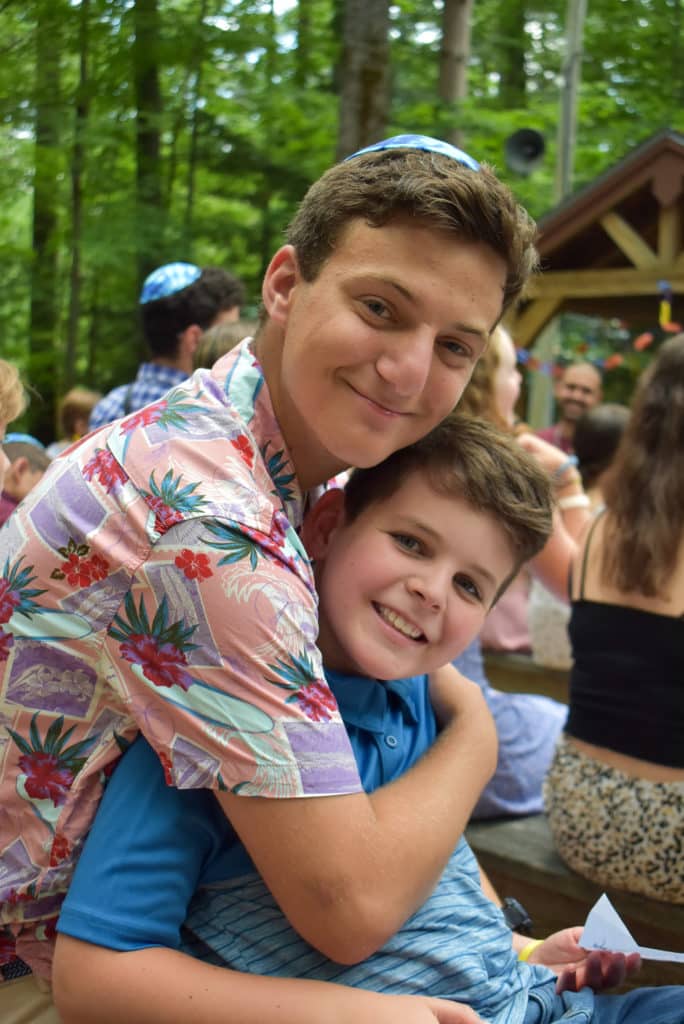 your home away from home
Bunking
Living in a cabin is like a sleepover party every night! At Camp Kingswood, a camper's bunk becomes their family, and campers return summer after summer to be with their best friends at camp. Still, even at home, campers know they may not always get along with their siblings, but they're still family. At camp too, we teach that living with others is so fun — and it can be hard! Navigating these challenges is part of camp, and it helps campers develop skills like flexibility, problem solving, and teamwork. We remind campers that while not everyone will be their best friend, they can still be kind, helpful, and friendly bunkmates.
Cabin assignments are announced to campers upon arrival on the first day. We do not share bunk assignments with families in advance of camp. Cabins are assigned based on grade in school, age, if they've attended before, and their interests. Assignments balance the best interests of the individual with the best interests of the group. Campers are invited to request two friends on the Bunk Request Form. We do our best to place each camper with at least one friend, and mutual first requests are given priority. If you have a concern regarding bunking, please be in touch.
You can help us create an amazing bunk experience for your camper by:
Encouraging your child to welcome new campers into their bunk if they've been there before by being welcoming, friendly, and supportive, and helping new campers feel just as home as they do!
Reminding them that everyone's grown up and changed a ton since camp last year, including them!
Practicing how to approach new campers and make others feel included. Helping them remember some strategies to manage disappointment — whether it's related to their bunk assignment or anything else throughout the session. Talking through what it's like to live in a shared space with other kids and some of the issues that could arise if it's their first time at overnight camp.
Reminding them that if they need anything, or could use someone to talk to, their counselors are there for them, and they can go to them anytime. Each bunk has 2-4 bunk staff depending on their age and size of group, so there's always someone to turn to.
Letting them know that in addition to their counselors and unit head, at Kingswood there are Camper Care specialists living at camp who are social workers, psychologists, or therapists at home during the year. Our camper care team is also available for campers to check in with anytime.
Packing a few "comfort" items for your camper to take to camp, like photos of family, favorite books, or a small non-valuable item (or a picture of one) that has sentimental meaning.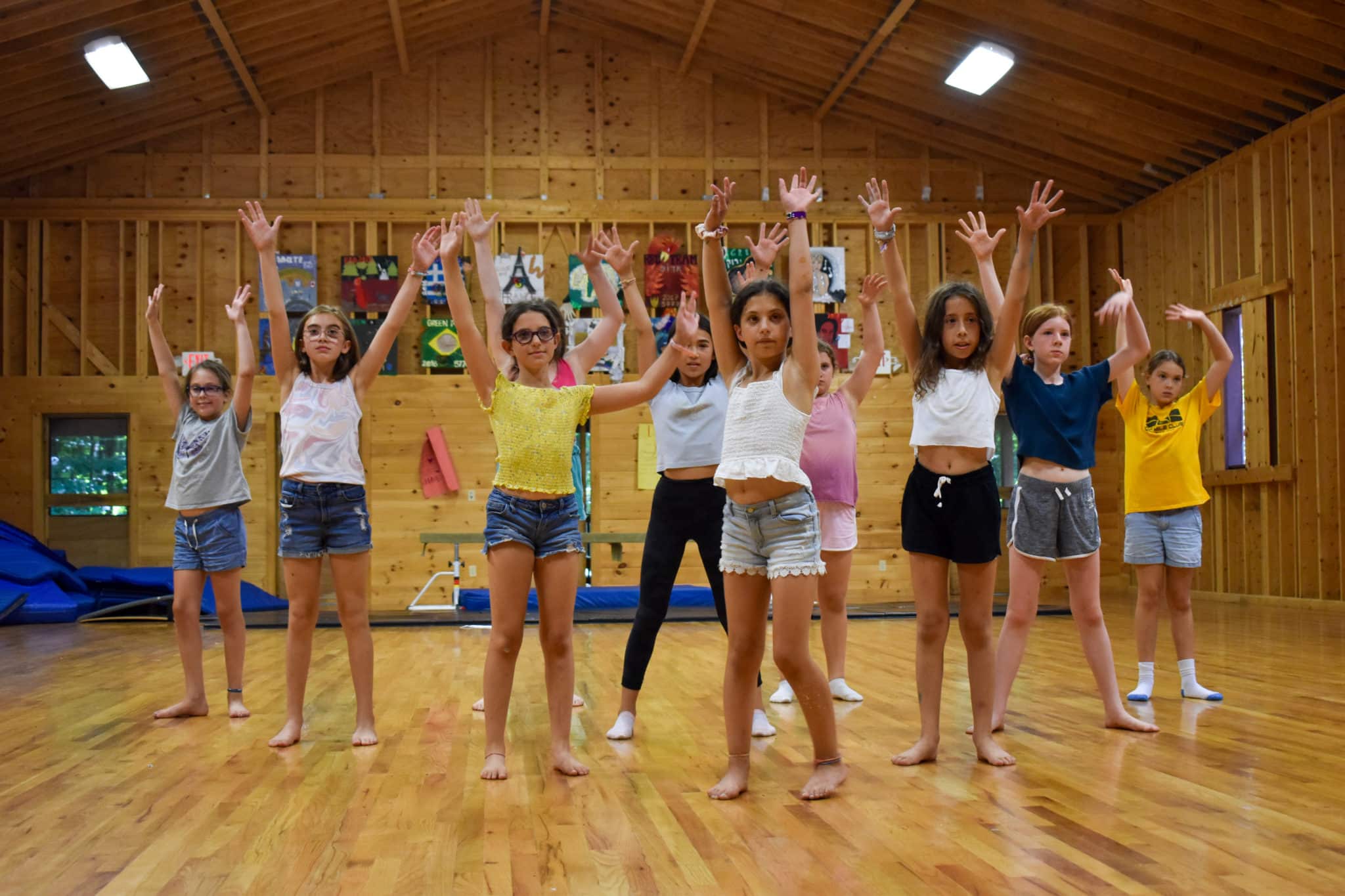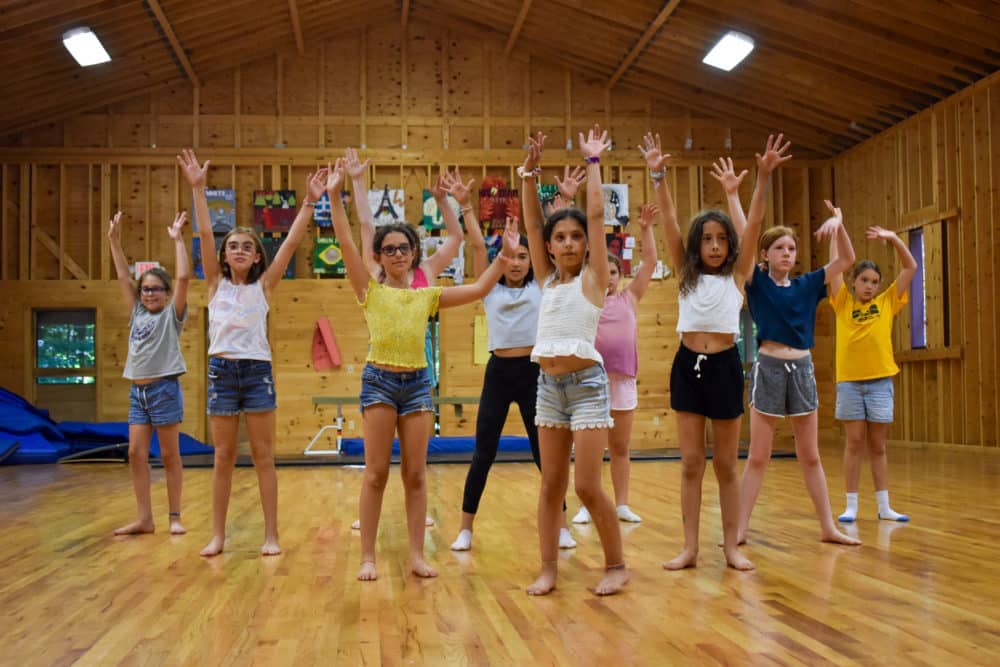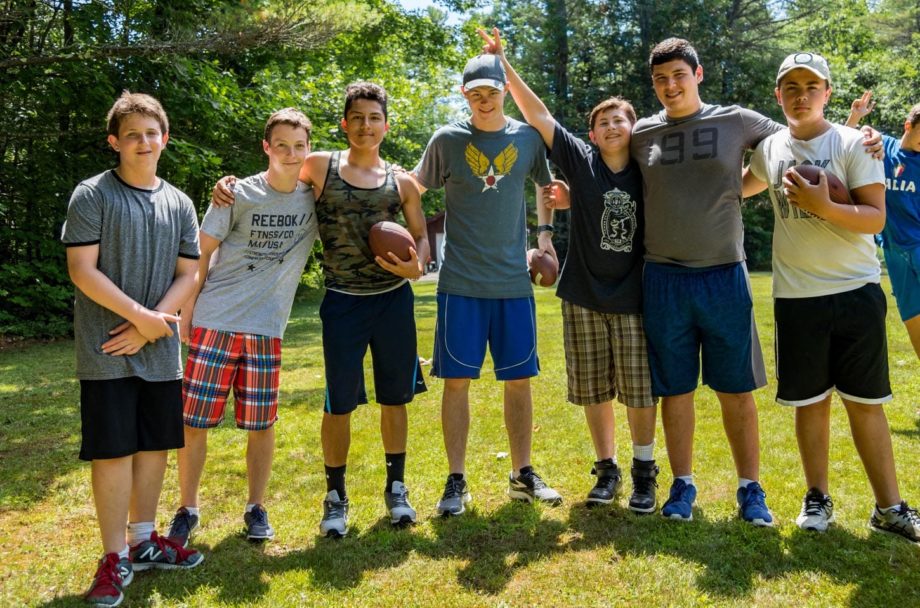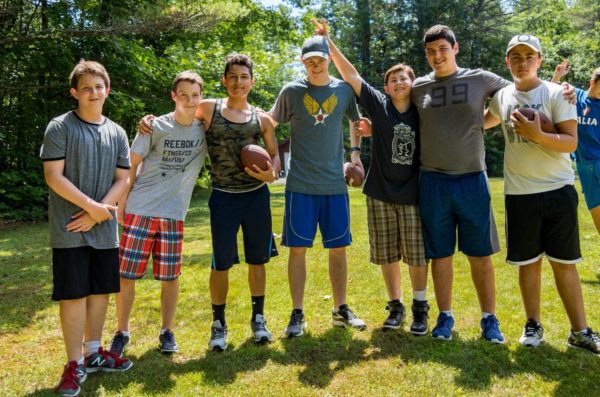 b'tai avon! Camping never tasted so good!
Food
Good food can make or break a camper's experience, and knowing this, we take food VERY seriously! We work with our awesome food service directors to create menus that are delicious, kid-friendly, healthy, and plentiful. Every meal comes with lots of options, including a full salad bar with choices of proteins and rotating sides and salads. One member of our chef team is solely devoted to special dietary needs and food allergies, making sure our alternative meals are just as tasty and varied as the featured meal. Our team takes pride in making most meals from scratch, and campers working in the garden drop off veggies and herbs to incorporate into recipes. Bet you didn't know we were farm-to-table! 😉
Please do not send your camper with any food, snacks, or candy. Food in the bunks, no matter how tightly sealed, will inevitably lead to bugs and critters in the cabins. More importantly, we cannot have a camper unknowingly exposed to a food they could be allergic to. Counselors are instructed to confiscate and dispose of any food sent to camp. Sneaking in food puts counselors in the position of policing, and that doesn't make camp fun for anyone. We have plenty of opportunities throughout the session to eat special snacks, treats, and candy (see next section — Canteen!).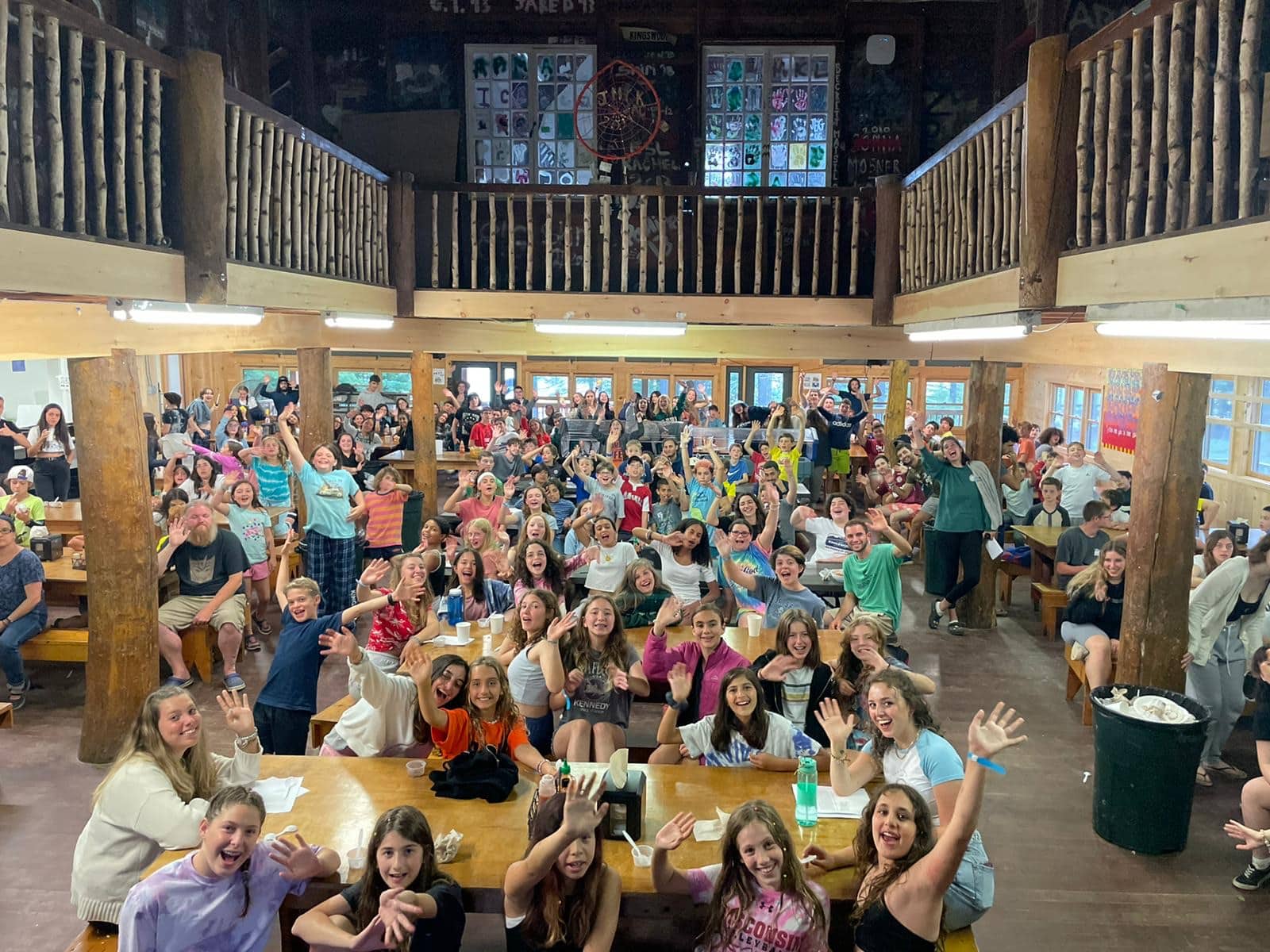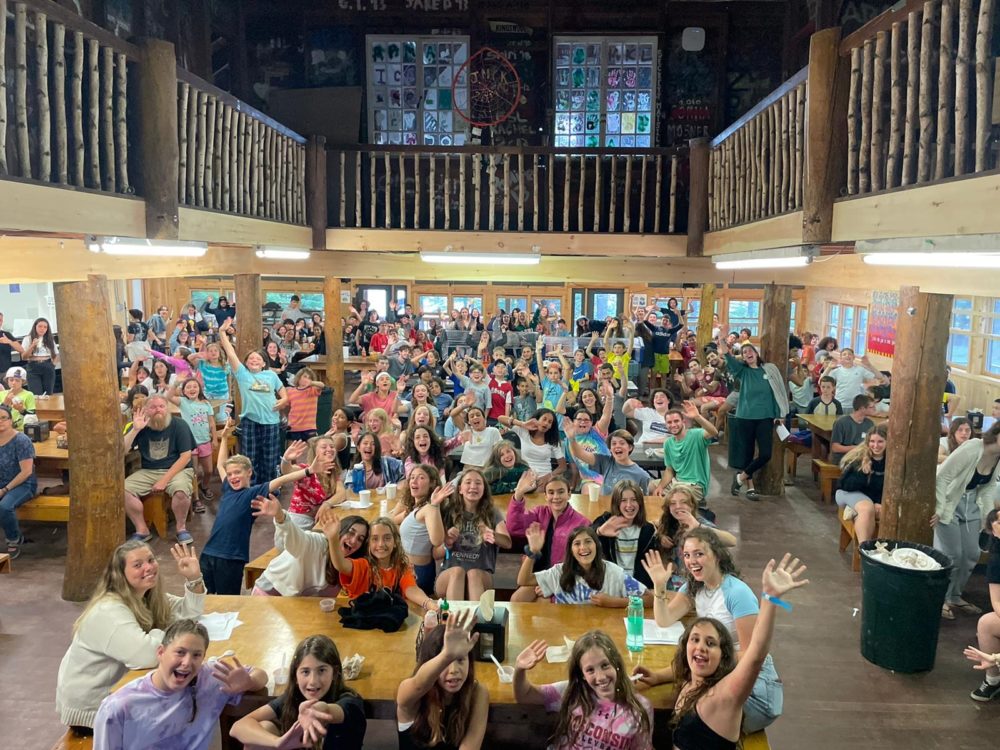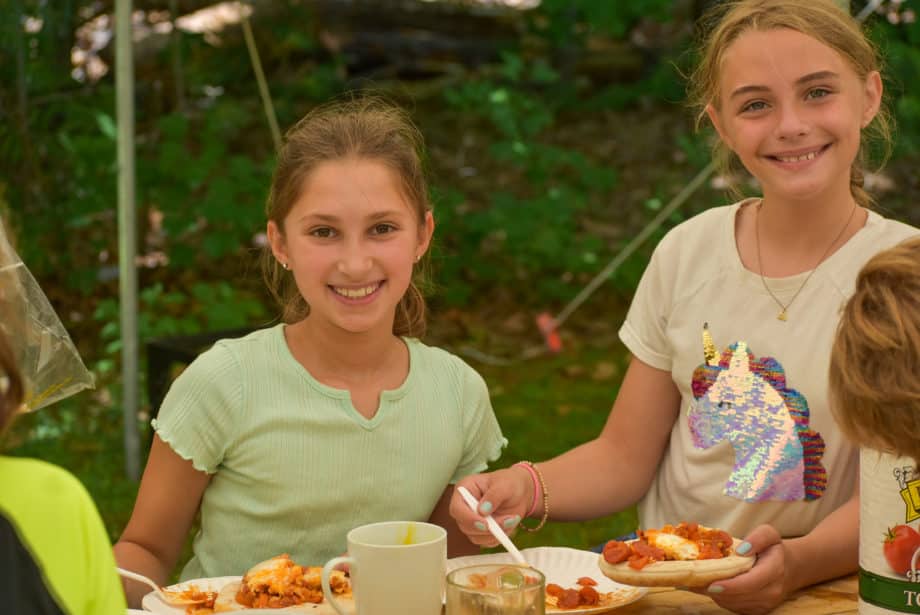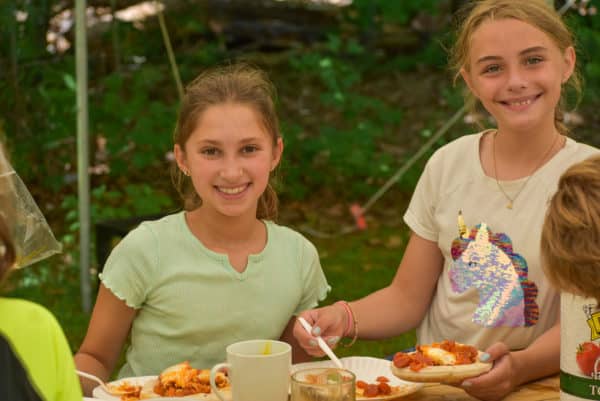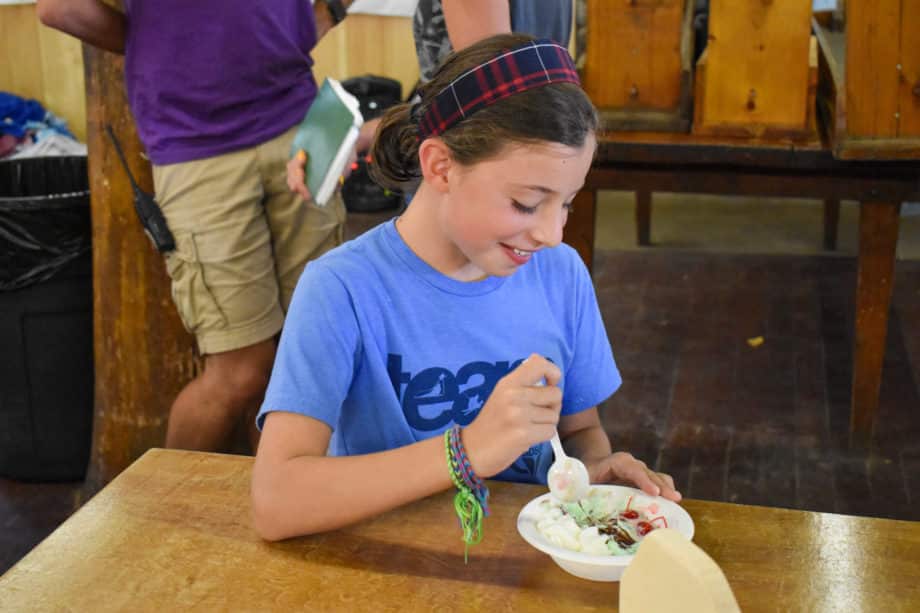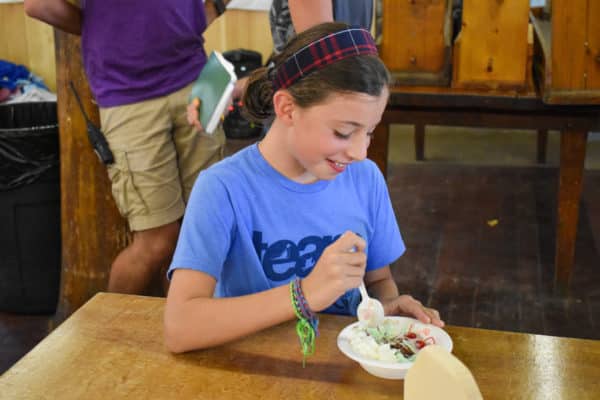 treat yourself
Canteen
Two to three times each week, campers visit Canteen, where they choose their own special snack (included in the cost of camp) and can purchase games, forgotten toiletries, and seriously cool camp gear. While our online camp store is open all year, every summer we introduce new camp gear only available at the in-person Canteen. For 2023 we'll have a line of special 110th anniversary items for sale. We stock sunscreen, toothpaste, toothbrushes, postcards, stamps, and other essential items campers can purchase if they forget or run out.
We recommend families provide campers with at least $50 for a 3.5 week session forCanteen. Families can prepay for Canteen and/or add money to their campers' accounts throughout the summer using CampInTouch or the Campanion app via credit card. Families can also pay for Canteen by check or cash prior to camp, or by bringing a labeled envelope to give to the bus staff at drop-off. The remaining balance at the end of the summer will go toward our Kingswood Camper Scholarship Fund. If you would prefer to request a refund of the unspent balance, please contact us in writing by August 18, 2023.
Bunk Gear
Every camper receives one Camp Kingswood t-shirt at camp. Lots of other Kingswood gear is available for purchase both at camp at Canteen and at the online camp store. Visit the online camp store to find Kingswood clothing and gear for your whole family! You can find most items on the camp packing list there too, including great camp duffel bags.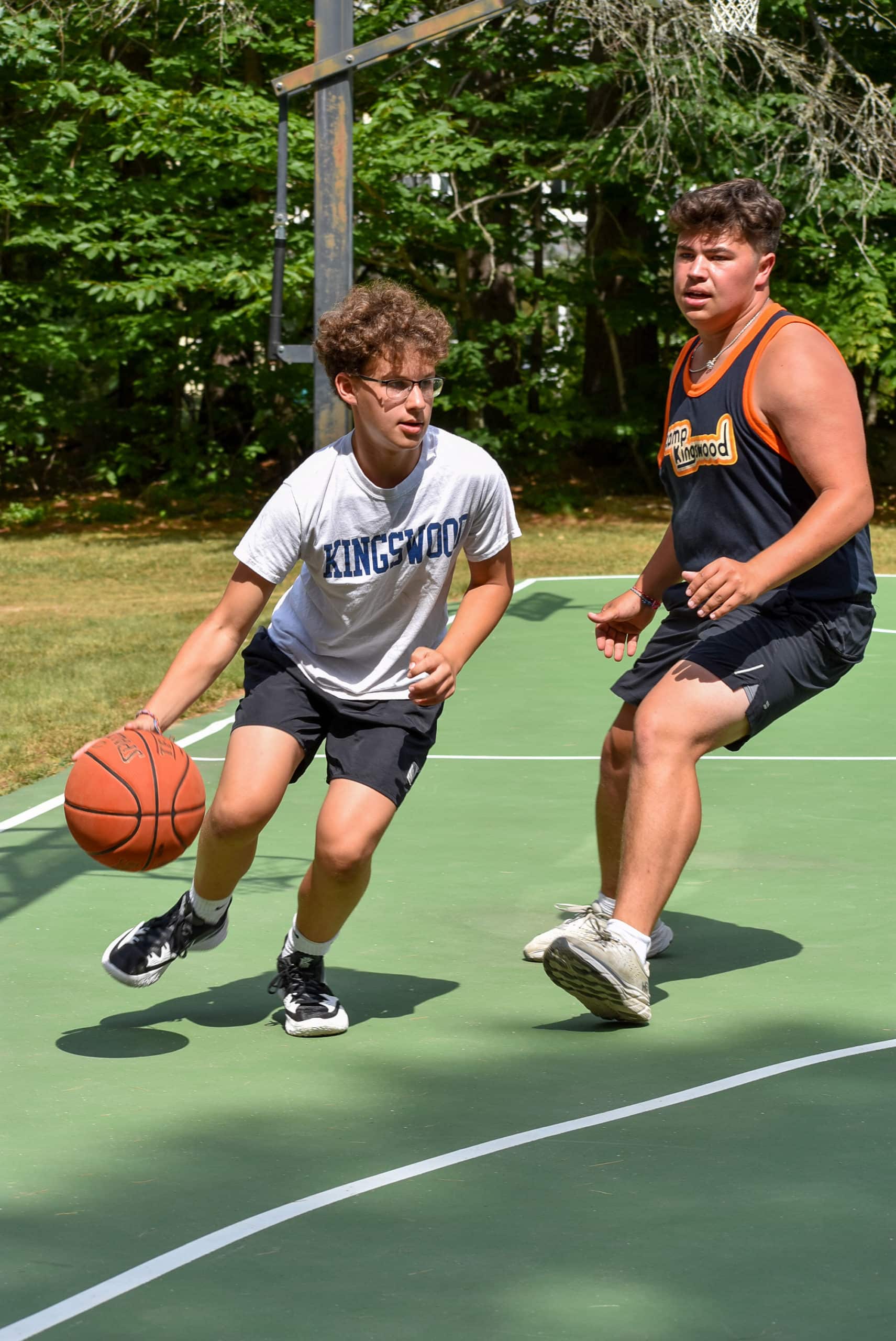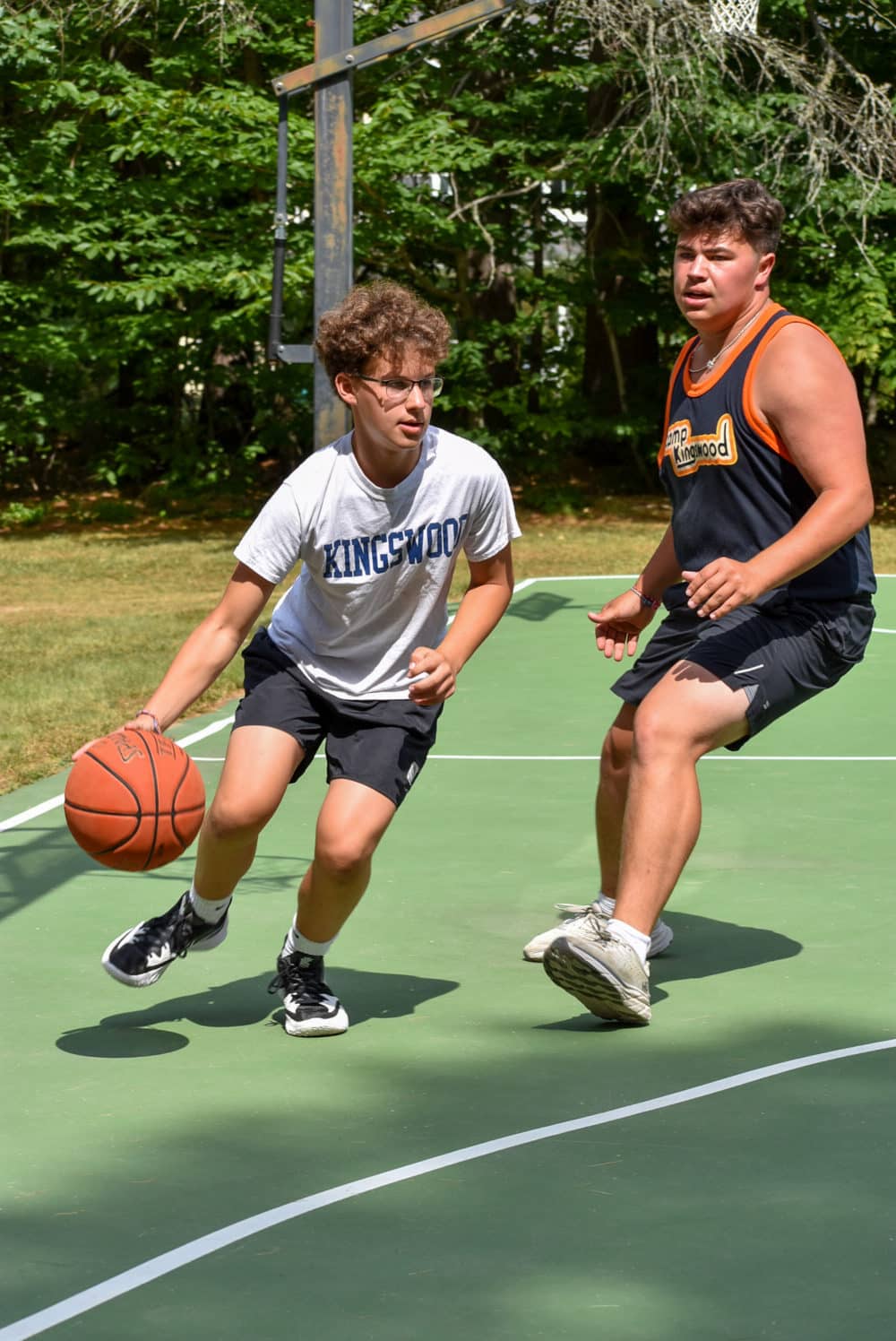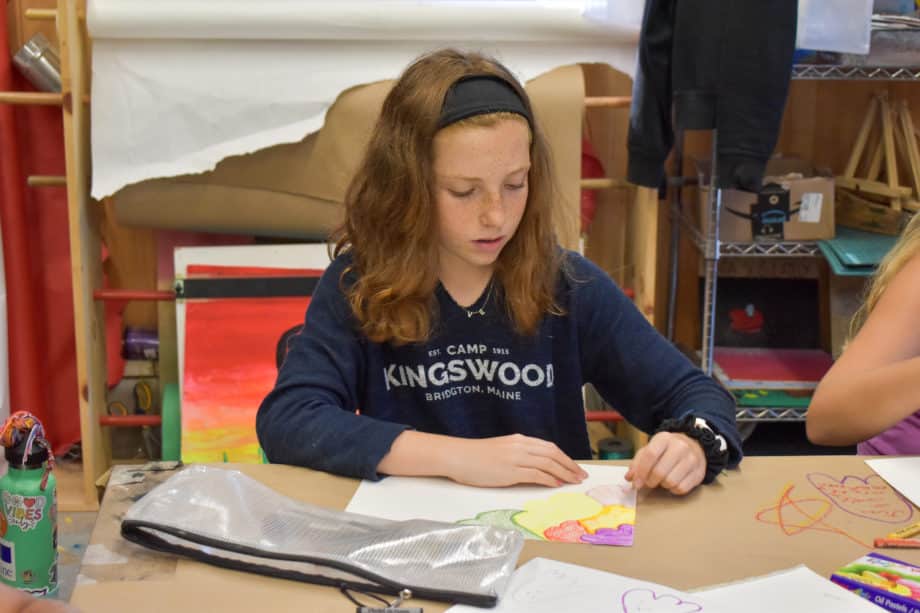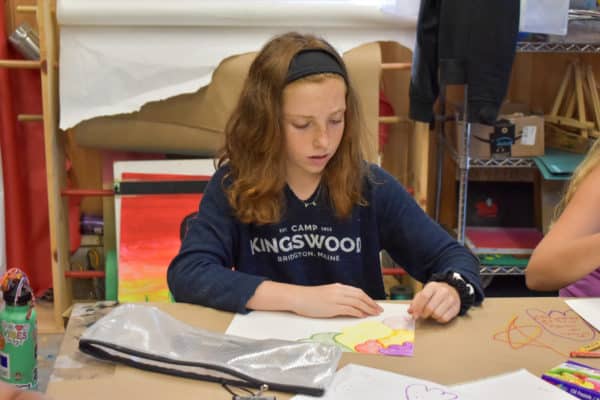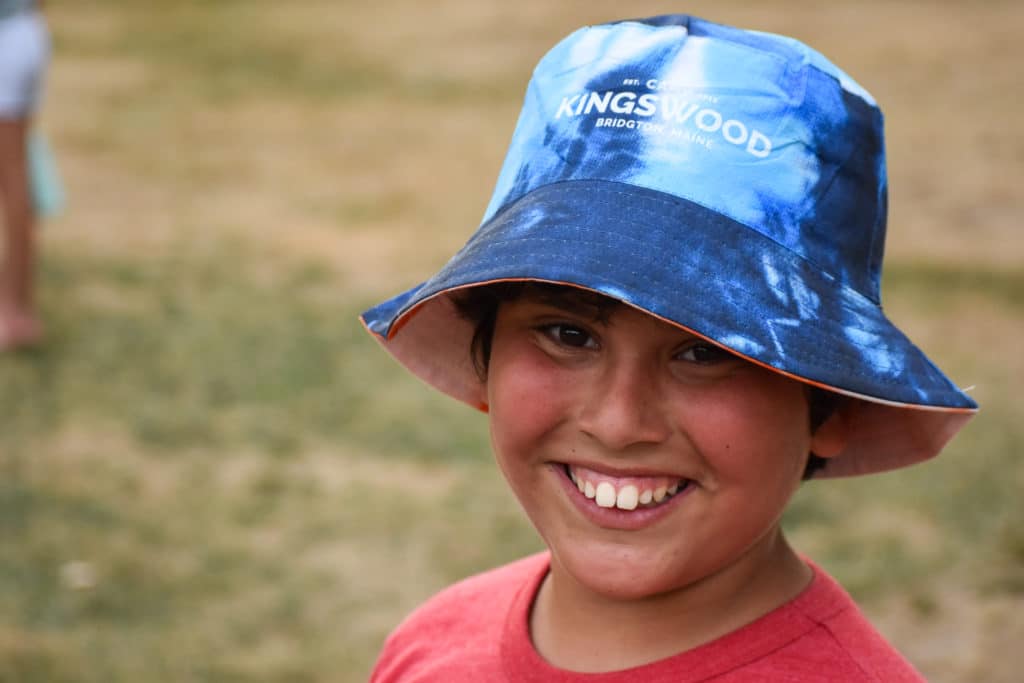 celebrate in style
Birthdays
Birthdays at camp are the best! Campers' birthdays are celebrated all day long, with a special birthday cake for their bunk served at lunch, and the whole camp singing to them while they 'skip around the room.' We are happy to make birthday cakes according to any specific dietary needs or allergies. Campers with birthdays during their camp session are permitted to have a birthday phone call home and to receive a birthday package, addressed to "Camper Name – Birthday Package." Please call or email our camp office at least 24 hours in advance to schedule your birthday call.
This year we're celebrating a very special birthday – our 110th Anniversary! We'll be celebrating with special events and programs all summer.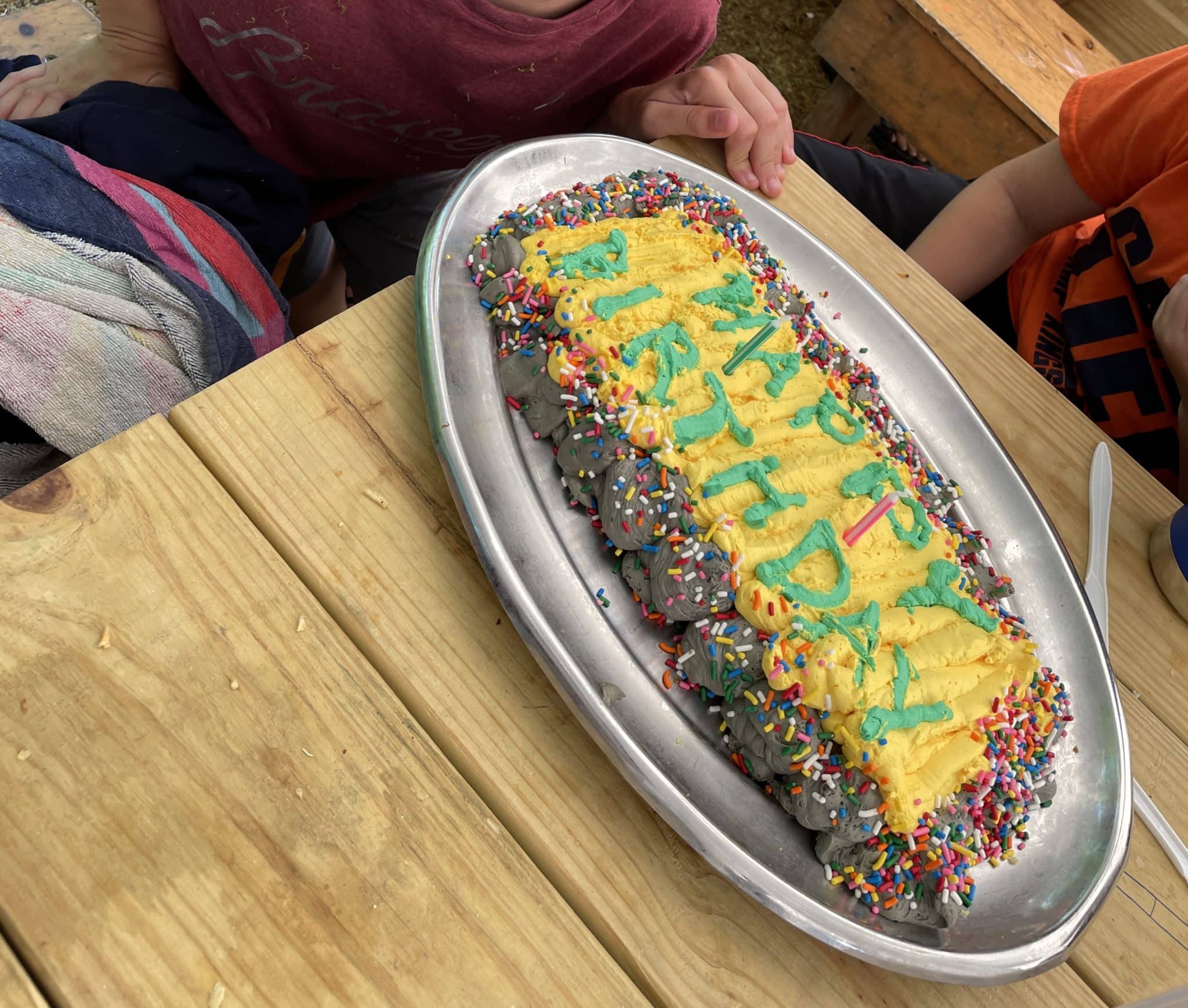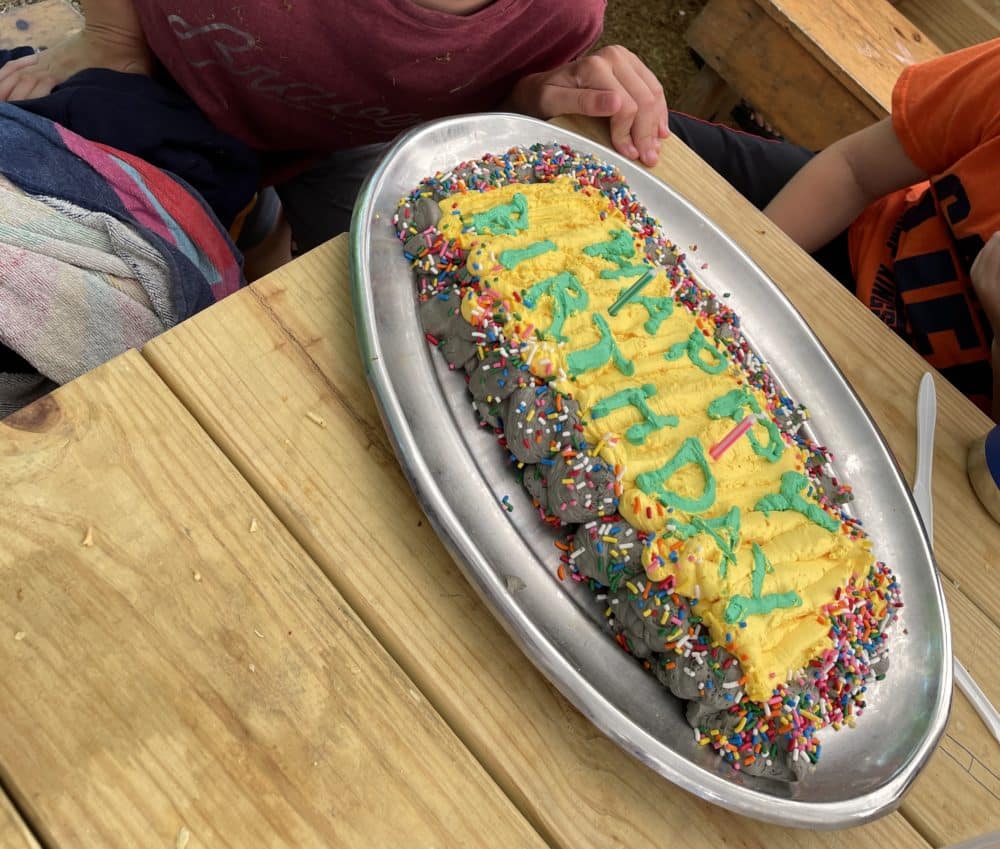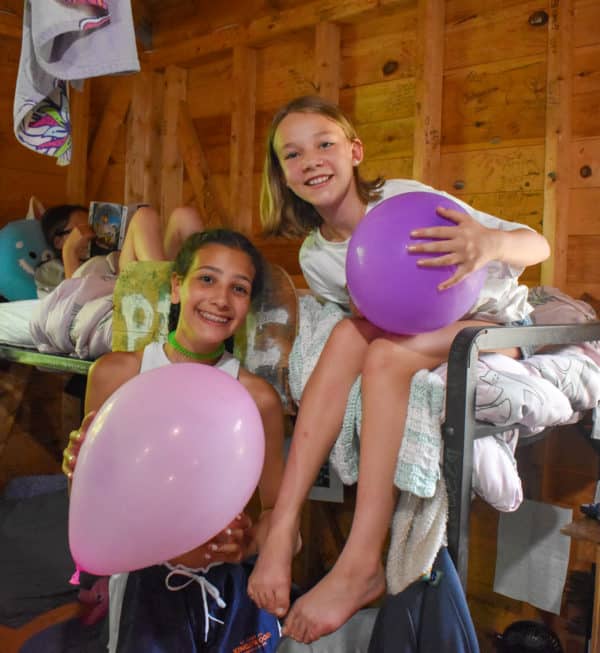 unleash your inner explorer
Overnights and Trips
Every cabin has one overnight during each 3.5 week session. Staffed by a trained trip leader, overnights are an opportunity for campers to experience the fun of sleeping under the stars, cooking over a fire, and relaxing in a tent. Olim bunks camp in our Kingswood woods, while the older units take advantage of our breathtaking New England surroundings to explore the mountains and lakes in Maine and New Hampshire. Chalutzim campers take their adventure further with a multi-day trip each session.
*Two-weekers may or may not be at camp for their cabin's overnight.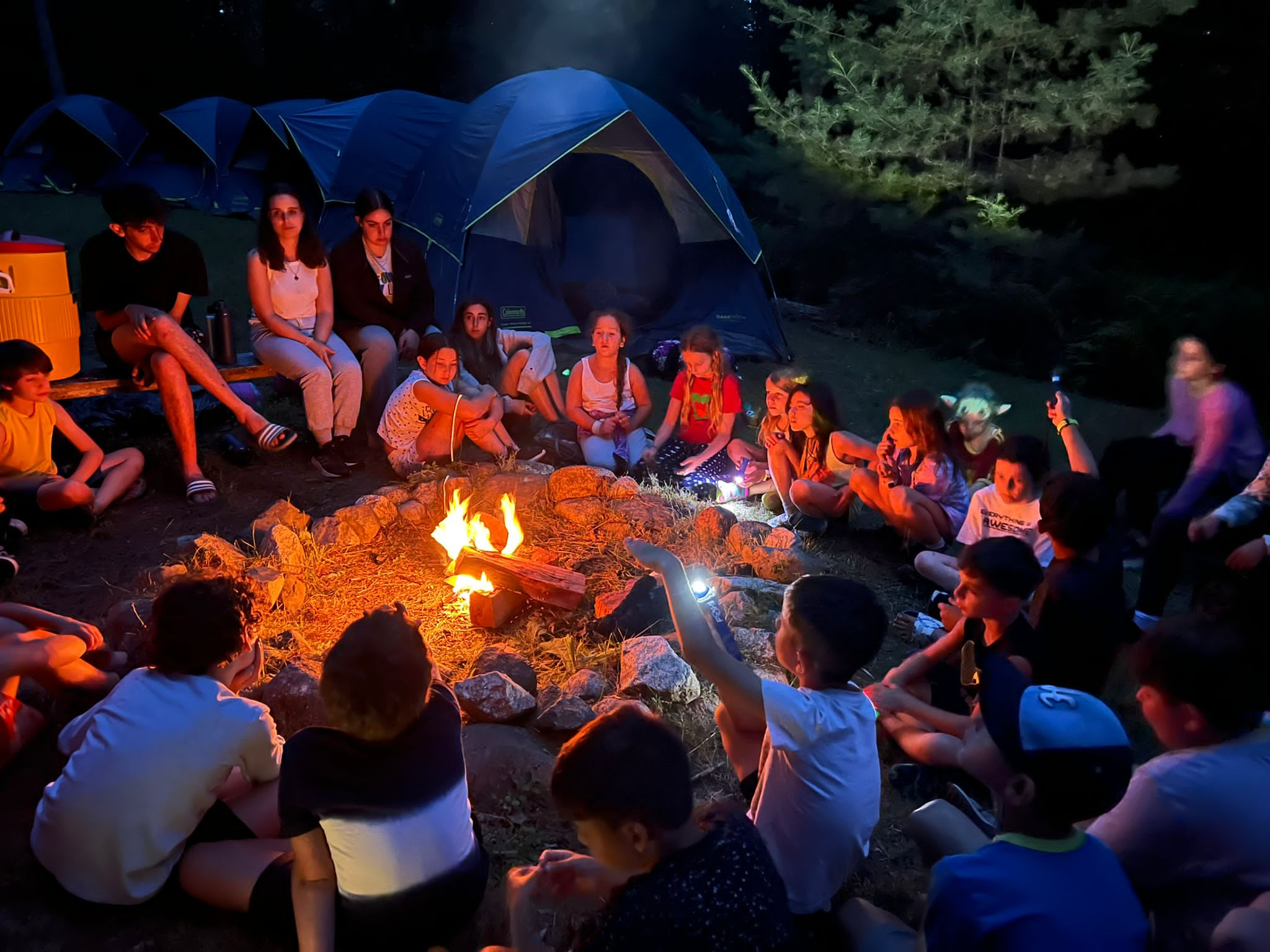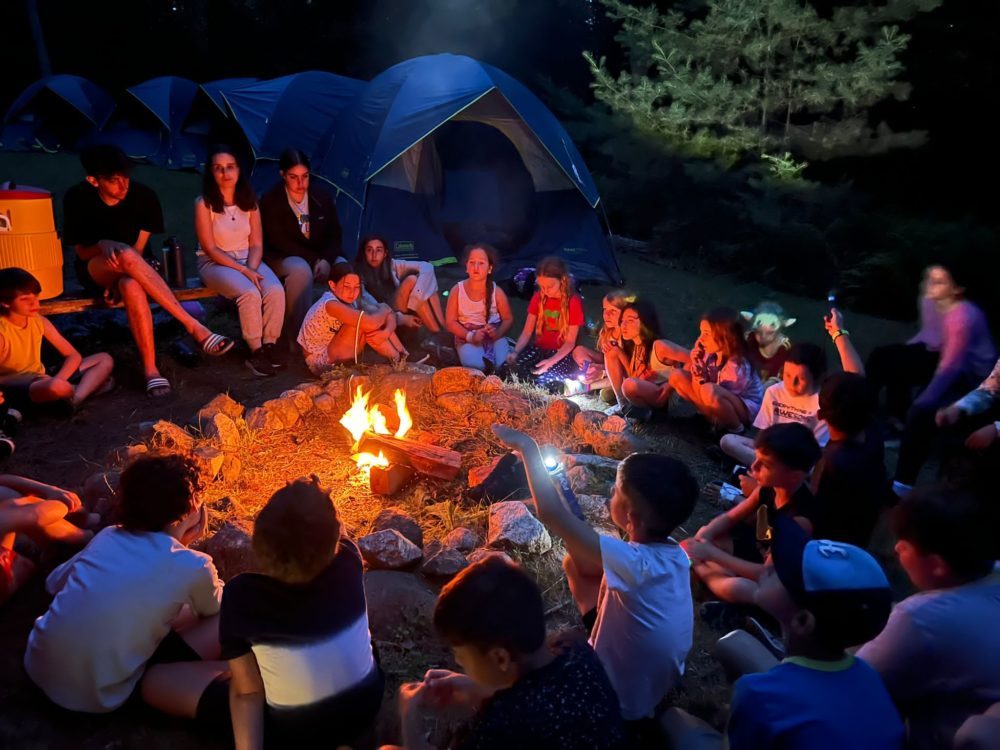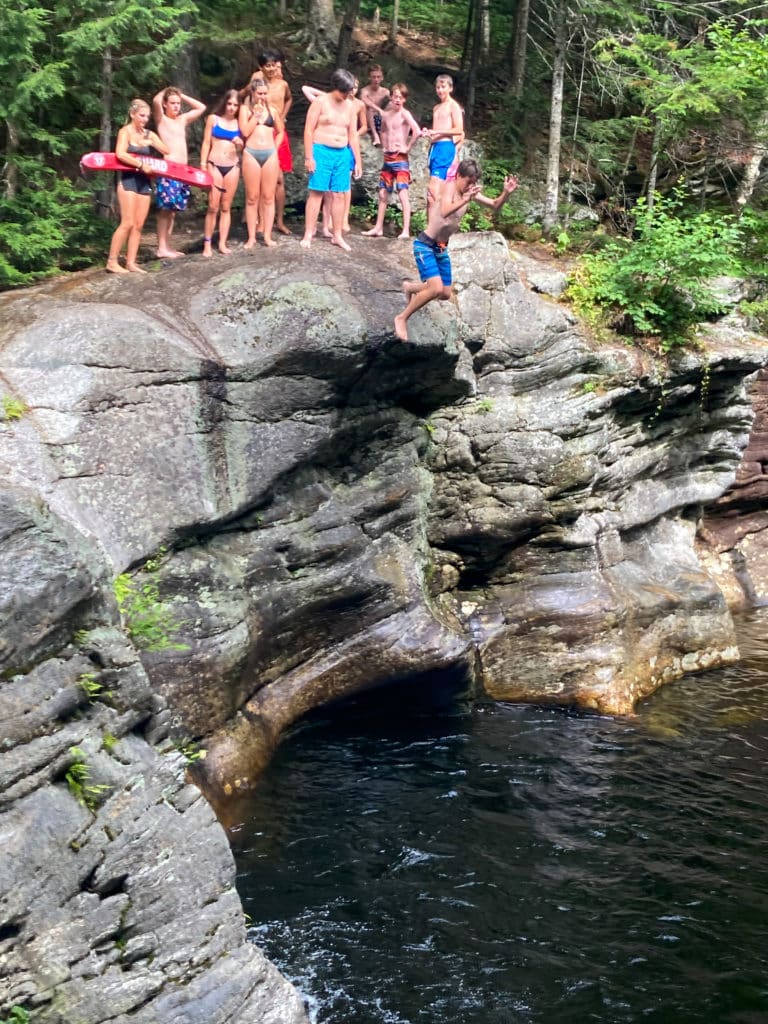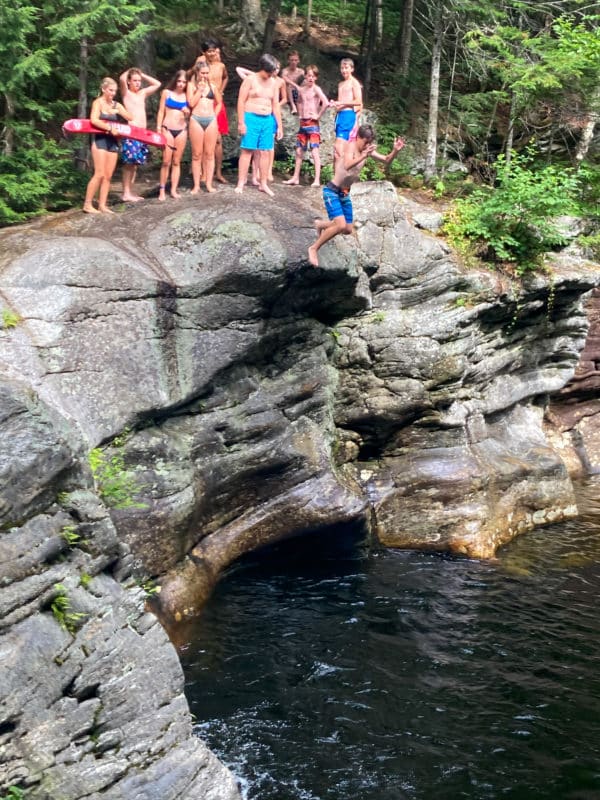 Camp's not just for kids!
Visiting Day
Visiting Day is back live for 2023! Visiting Day will be Tuesday, July 18, only for the families of our Full Summer campers. Families are invited to spend part of the day with their camper(s) in Bridgton and part of the day at Kingswood.  A Visiting Day schedule and details will be shared separately with our Full Summer families. For parents not able to  make it in-person, our staff will make sure your campers have a great day, and we'll share instructions prior to camp to schedule a Virtual Visit instead.