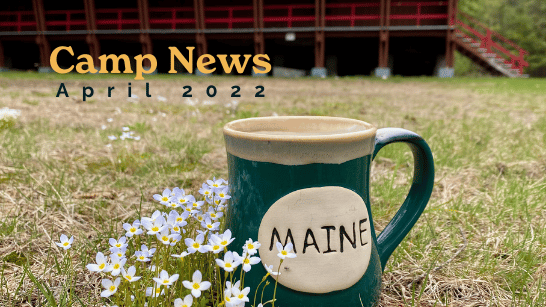 It's April, which means the ice is melting on Woods Pond, the trees on Upper Fields are starting to fill in, and our camp team is moving full-throttle ahead toward summer! We've just returned from a few weeks on the road, gathering our staff around the world for trainings in the UK and Israel. Would you believe that while we were returning from a hike on the cliffs by the beach in Israel we bumped into one of our CAMPERS?!?!?! Shout out to Olim camper Maya Elkins and her parents Rachel and Jon from Tel Aviv who were lucky enough to meet a group of our first-time Israeli staff in person! The counselors thought we had planned it, and a few of them still might not believe us that it was just a coincidence! 🙂  We can't wait for our awesome 2022 staff to meet the rest of our campers so soon.
As camp approaches, we're going to be writing more often with important details to help you prepare for camp. Please read everything carefully, and as always, be in touch with any questions. It's a lot to get ready for overnight camp – especially if it's your first time! We want to help make the process of getting you and your camper ready as painless as possible, and if you read everything we send, you'll have all the information you need.
The 2022 Family Handbook is Live
The 2022 edition of the Family Handbook is now available in your CampInTouch account. Please read it carefully, as it's full of important information, pro-tips, and policies you won't want to miss. There are important changes for this summer, including earlier camp departure times and new locations (we are NOT using The Rashi School this year). For your convenience, everything new for Summer '22 has been marked with an orange badge.
Three New Tools to Make Life Easier!
Campanion
We heard from some of you last year how much simpler it would be to be able to do camp 'stuff' from your phone, and now you can! CampMinder, the parent of CampInTouch, has launched Campanion, and we'll be one of the first camps using the app in 2022! Once you download Campanion in the Apple or Google Play app store, you log in as you would on your computer using your CampInTouch log-in, and then follow the simple instructions and menu to fill out all your forms, read the Family Handbook, send your camper emails, and access all the summer photos! Even better, the app has facial recognition software, so you can upload a photo of your camper and have notifications sent to you when they're recognized in photos.
Camper-to-Parent Email
While we love everything about Bridgton, Maine, we know that the small post office there can be slow, especially when mail is going all the way to Florida, Wisconsin, or France! For the first time at Kingswood, campers can now 'send emails' to parents. In prior summers, in addition to sending snail mail (still campers' favorite option!), parents could email letters to campers through CampInTouch, and the emails would be printed out and distributed every day (except Saturdays) with the camper snail mail. Now, while kids won't have access to computers to actually email you, if you click the option to receive a return email from your camper, they'll be able to send you an email back as soon as the next day. A coded sheet of stationery will be printed out with your email and given to your camper, and then they'll handwrite a letter we'll scan and send back to you as an email to your account.
Required for 2022: CampMeds
The long-time local pharmacy we had been using to pre-package camper medications stopped offering the service in COVID, but moving forward, we are pleased to be partnering with the leading camp medication pre-packaging service, CampMeds. This is the safest and most efficient way for us to distribute camper medications, and it allows your camper to get their medications as quickly and painlessly as possible. There's a CampMeds Welcome Letter and FAQ Page in your account and attached here with detailed information, and you can register and upload your camper's prescriptions at www.campmeds.com. There is a one-time registration fee per camper of $55/$65 depending on session length, and we will cover the cost upon request (email jon@campkingswood.org) for any family receiving a camper scholarship for 2022. Medications are shipped directly to us from CampMeds, and they will be ready for your camper's arrival. Please note: The deadline for CampMeds registration is 30 days before the first day of camp, and late registrations will incur a $25 late fee.
First-Time Camper Calls
We would love to meet every new Kingswood family before the start of camp. While we can't make that happen with everyone in person, we can do it virtually! New families, if you haven't had the opportunity to meet Jodi or Mitch in-person or virtually already, look out for a separate communication coming soon about setting up a First-Time Family Call. Returning families, you're also welcome to schedule a call anytime!
 
Introducing our Food Service Directors!
excited to introduce you to Mike and Efrat Mack, owners of Hamsa Cooking and our Food Service Directors! Mike and Efrat are joining us for their second summer together managing the kitchen at Camp Kingswood (with their adorable toddler Emma in tow). Mike's whole life has been working in camp kitchens as a second generation camp food service director. Based on last summer's camper surveys, the camp food was awesome, and it's all because of Mike and Efrat! They lead a team of chefs and kitchen staff who work hard to ensure that everyone at camp has delicious and nutritious meals every day, and they take pride in making most of our food from scratch. We even have one chef dedicated to overseeing just special dietary needs and food allergies. Have a question or concern about your camper's dietary needs? Please reach out to set up a call. 🙂
 
Shipping Luggage to Camp
This summer we are partnering with ShipCamps for families interested in having their campers' bags delivered to camp. All campers are invited to use ShipCamps, but we especially want to encourage campers coming by plane to consider this service. ShipCamps eliminates the hassles of first-day luggage transport, with bags picked up at your front door and delivered to camp. Round-trip service is also available. Families can sign up directly at: https://shipcamps.com/camp-kingswood.
 
That's all for now! Hopefully the April showers this month will clear the way for a summer of warm days and fun. Before you know it, it'll be time to start packing those bags for camp…
Peace, love, and camp,
The Kingswood Team