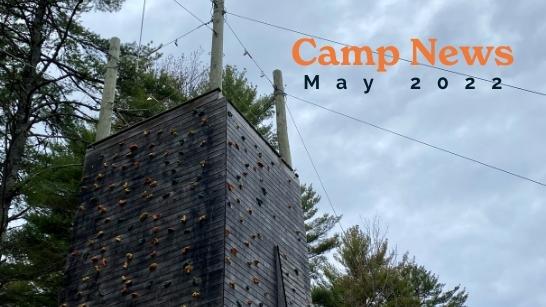 It's May, and we're down to one month until camp!! You know it's getting close when we start talking in weeks instead of months, and in just FIVE short weeks, summer staff begin to arrive to start their training! First comes the Leadership Team – all the unit heads, area heads and program directors who work together to run camp. Next come our waterfront, ropes course, and outdoors staff, who have an extra week of specialized professional training before the rest of the specialists and counselors arrive. By mid-June, our whole staff is at camp, immersed in training, counting down the SECONDS until camper buses arrive on June 26!
New families, it was wonderful to be with so many of you last week for our New Family Night, and we loved connecting with you over these last few weeks during your First-Time Camper Calls. New and returning families are always invited to schedule a time to chat if there's anything on your mind that could help you and your family prepare for camp! Read on for a few May announcements and reminders…
Luggage Tags
By now, many of you received your camp luggage tags in the mail. It's fun to get snail mail, even when it's just luggage tags! 🙂 All overseas tags were sent, but will take longer to arrive. Israeli campers, Jodi brought your envelopes with her to Israel last week and mailed them from there, so maybe it will go a little faster? 😉 No need to worry if they don't arrive in time; all bus staff will have extra tags with them. We'll make sure the correct tags are on the campers' bags so they're dropped off by the right cabin at camp. If your camper's luggage tags didn't arrive, or if you got the wrong color, please be in touch with jon@campkingswood.org.
Visiting Day
We apologize if this disrupts anyone's plans, but we made the difficult decision to hold off on offering an in-person Visiting Day. While this only directly impacts our seven-week families, we've heard from some families still considering extending to full-summer! Visiting Day could factor into that decision, so we want everyone to have this information.
We'll be offering Virtual Visiting Day again, and campers will have an opportunity to video chat with their parents and siblings on Monday, July 18. We'll be sending out a communication mid-session so families can pre-schedule those calls.
2-Weeker Extensions
Speaking of extending to a longer session, if your camper is registered for either of our two-week sessions, please click here to complete our 1-minute Extension Survey. The 2-week program is a great taste of camp. Once you and your camper are ready, we recommend staying for at least a 3.5-week session to get the full Kingswood experience. Many 2-weekers choose to stay for 3.5 weeks once they're at camp! This survey will tell us whether or not you want your camper to have the option of 3.5 weeks, or if they are definitely just coming to camp for two weeks this summer.
 
Tours
Kingswood is re-opening for tours! We invite you to be in touch to schedule a tour by appointment, beginning Memorial Day weekend. We are not offering camper drop-off at camp, so if you haven't had a chance to explore Camp Kingswood in person and you'd like to, we'd love to show you around! (Note: While we do offer individual family tours for prospective campers while camp is in session, we do not allow families to tour while they have a camper in camp.) Please spread the word to any friends thinking about camp for 2023!
 
COVID-19
We wish we could be heading into the summer with COVID fully in our rear-view mirror, but unfortunately that's just not reality for overnight camps in 2022. We held off on publishing our summer COVID protocols so that we can continue to learn and adjust as months pass and CDC guidelines evolve. Next week, we will be participating in a Town Hall for summer camps led by ACA (American Camp Association) and CDC to discuss the most current guidelines and recommendations. We will hear if there are new camp-specific guidelines introduced in the coming weeks that we are obligated to follow. Following that meeting, we will finalize our summer COVID protocols and share them with you. We're grateful for your patience while you've waited for more details from us.
 
Introducing Debbi and Gary
Returning for her 8th summer at Kingswood, Debbi Brown runs our summer office at camp, and we're thrilled to introduce you to her and her husband Gary, who's our camp driver! Debbi manages our summer office and Canteen, and we couldn't run camp without her and Gary! Debbi says a song that best describes her is "You've Got a Friend," by Carole King, and when it comes to the lyric, "All you've got to do is call, and I'll be there" she takes it literally – especially when it's a camp parent calling during camp! Debbi's usually the person answering the camp office phone in the summer, and she's the person you'll connect with for things like scheduling birthday calls, adding to your camper's Canteen account, checking in on your camper, or asking any general questions about camp. Our summer office opens Monday, June 6, and after that you can reach Debbi at debbi@campkingswood.org, or call our summer office at (207) 647-3969.
  
Have a great month of May, and Happy Mother's Day to all our camp moms out there!
Peace, love & camp,
The Kingswood team