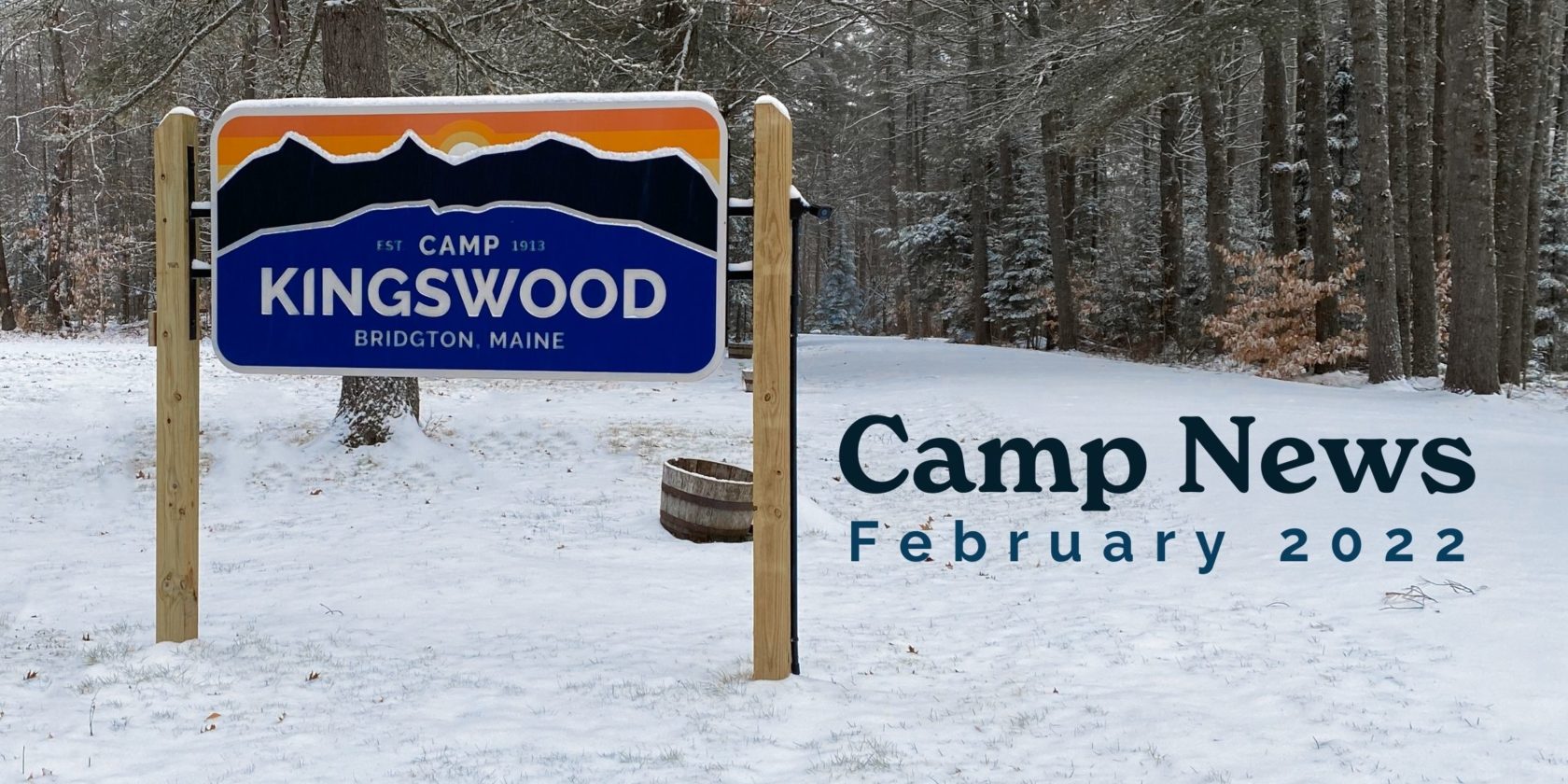 Dear Camp Kingswood families, alumni and friends,
We hope your 2022 is off to a great start! Camp may be buried under snow, but that's not keeping us from keeping busy gearing up camp. As we head toward summer, we'll be sharing this monthly newsletter with our entire camp community, as a way to keep everyone informed about what's going on. Read on to hear about exciting camp announcements and updates!
144 days until Summer 2022!
Last week we began our countdown to camp at the 150 day mark! Can you believe now we're just 144 days from the first session of 2022? To celebrate 150 days, we shared a coupon on social media for a 25% discount at our Online Kingswood Store. Happy almost camp! You can use the code KWOOD150 at checkout. (Please note: The discount will not be applied automatically, but you will see the savings applied to your receipt.)!
New!

 Mountain Biking

We heard from campers last summer that one activity they'd love that we don't offer yet is mountain biking, and we agree! New for 2022 is mountain biking at camp! You thought our woods were just for stray 9-square balls? We'll be cutting new trails this spring, so campers from beginner to advanced and Olim through Chalutzim can explore the beauty of Maine on two wheels.  Want a refresh on all the activities to check out this summer?? Click here to check out our updated Activities page.
New!

 Showers in Olim Bunks

New this summer, all rising 2nd – 5th grade campers (otherwise known as the mighty unit of Olim!) will have showers in their bunks! In the girls and boys bunks, the bathrooms will now include toilets, sinks and private shower stalls.
New!

 Renovated Boys' Side Showerhouse

At the end of each session, campers fill out surveys to tell us what they think about camp. There's no better roadmap for how to make camp awesome than listening to our campers! We heard our boys share that the showerhouse could use some work, and we're on it! For 2022, the whole interior is getting a facelift, and we can't wait for our campers to check it out.
Camp Jitters?
It's that time of year, when camp is just far enough behind us that some of the awesomeness is starting to fade, especially for campers who were with us for the first time in 2021. If your camper came home SO happy and now is having second thoughts, know that that's totally normal! That's why usually in the winter we'd be gathering campers all around the world for reunions and coming to visit in each of your home towns. It's so sad for us that COVID still puts us in a reality where those events are questionable, and we can't wait for the next year when we'll be resuming more in-person year-round events. In the meantime, please reassure your camper that (even with reunions!) winter cold feet can be normal with overnight camp, especially after the first summer.
Here are some ways to help kids remember how great it felt to be at camp:
Let them scroll through our Facebook page from last summer
Show them '21 summer photos in CampInTouch
Guide them toward the end-of-session slideshows posted on YouTube, along with the now classic Jon Ferris pre-summer Get Ready for Camp Rap. 🙂
Reach out to schedule a call for them with one of our staff! Whether they prefer to connect with one of us, a unit head, a returning staff member…we're happy to facilitate a zoom to get them pumped!
COVID Protocols
It's hard to believe it's 2022 and we're still talking about COVID at camp. We wish we could spell out our summer COVID protocols now, but if there's one thing we've learned, it's that COVID policies made five months in advance are likely to be irrelevant by June. Our goal is to run camp this summer as "normally" as possible, but some of the decisions – like if we'll have Visiting Day, what vaccinations and boosters will be required, if we'll need to pod and mask, and if we'll be able to participate in Inter-Camp events – are still open questions, with some of those answers out of our hands. For example, last summer, trips and Visiting Day were not allowed by the State – it wasn't an individual camp's call. As always, we commit to coming to you with information as decisions are made. Please take one minute to complete this quick COVID poll.
Camp Forms
All camp forms will be live by the end of February, including our 2022 Family Handbook. Forms are shared in your CampInTouch account, and we'll email to let you know when they're available! In the meantime, please go ahead and book a doctor's appointment. All campers are required to have a health history form signed by their pediatrician within 12 months of the start of their camp session.
Alumni Weekend
Two years in the making – we are SO excited to welcome our Kingswood family back home to the 04009 in August! This summer, Alumni Weekend will be August 19-22, and registration is open! If you attended Kingswood yourself, come relive your summers on Woods Pond with a weekend full of activities, memories, and reconnection. There's no better way to bring back memories of the past, catch up on what's going on at Kingswood now, and play an important part in shaping the future of camp. Click here to register today! Please reach out to Jon at jon@campkingswood.org with any questions or concerns.
Now that it's February, we're looking forward to sharing more exciting Kingswood news (does anyone smell new farm animals?). Follow camp on Facebook and Instagram to see frequent announcements, including summer staff introductions!
Peace, love & camp,
Jodi, Mitch, Jon & Mara